Tired Of Nicks, Cuts, And Razors Taking Forever?
Get Smooth In 90 Seconds
Stop wasting time with razors and get the fastest shave of your life. In just two minutes.
Zero Cuts, Ingrowns, Or Irritation
A comfortable and irritation-free shave has never been easier than with our Razor® Kik 5-in-1 Technology.
Convenient & Easy To Use
Effortlessly shave hard-to-reach places such as around the ears and the back of the neck.
Introducing the Razor® Kik 5-in-1 Electric Shaver – the ultimate grooming companion that will revolutionize your shaving experience! With its five floating heads, this razor offers unparalleled precision and comfort, giving you the closest and smoothest shave you've ever experienced.
Feature:
* Five independently floating heads, intelligent shaving.
* It can shave your beard, your head, one machine dual purpose, economic and practical.
* IPX7 waterproof, the whole body is washable and can be cleaned with running water.
* Comes with a pop-up sideburns trimmer, can be used for trimming mustache and sideburns.
* 5 in 1 kit, besides the razor head, there are precision trimmer head, nose and ear trimmer head, soft face sponge and facial cleaning brush.
* The precision trimmer head: use together with three different limit combs(3mm, 5mm, 7mm) to trim, easier to create personalized hairstyle.
* The nose and ear trimmer head: can be used for removing your nose and ear hair.
* The facial cleansing brush: with very fine bristles, it removes oil and dirt on the skin, suitable for face exfoliating, cleansing.
* The soft face sponge: pre-shave massage to soften stubble for easier shaving.
* Rechargeable design, built-in 600mAh battery, after 5 hours full charge, it can be used continuously for 45 minutes.
Watch Real Customers Getting Real Results
Your Kit Includes

FlexSeries™ Shaver
Electric rotary shaver designed for head shaving

ScalpSafe™ Blade
Contours to your scalp and cuts 5x more hair than a razor

Clipper & Guards
Increased control for fading and outlining (3, 5, 7mm guards)

Nose & Ear Trimmer
Remove unwanted hairs without painful tugging & pulling

Exfoliation Brush
Charcoal-infused, deep-cleansing brush to exfoliate your skin

Scalp Scrubber
Removes dead skin from your scalp for a comfortable shave
The Best Shaving Kit For Every Bald Person

The fastest way to a baby smooth shave
Circular blades that move in different directions and adjust to the scalp's contours, enabling faster, smoother shaves with fewer passes than a razor.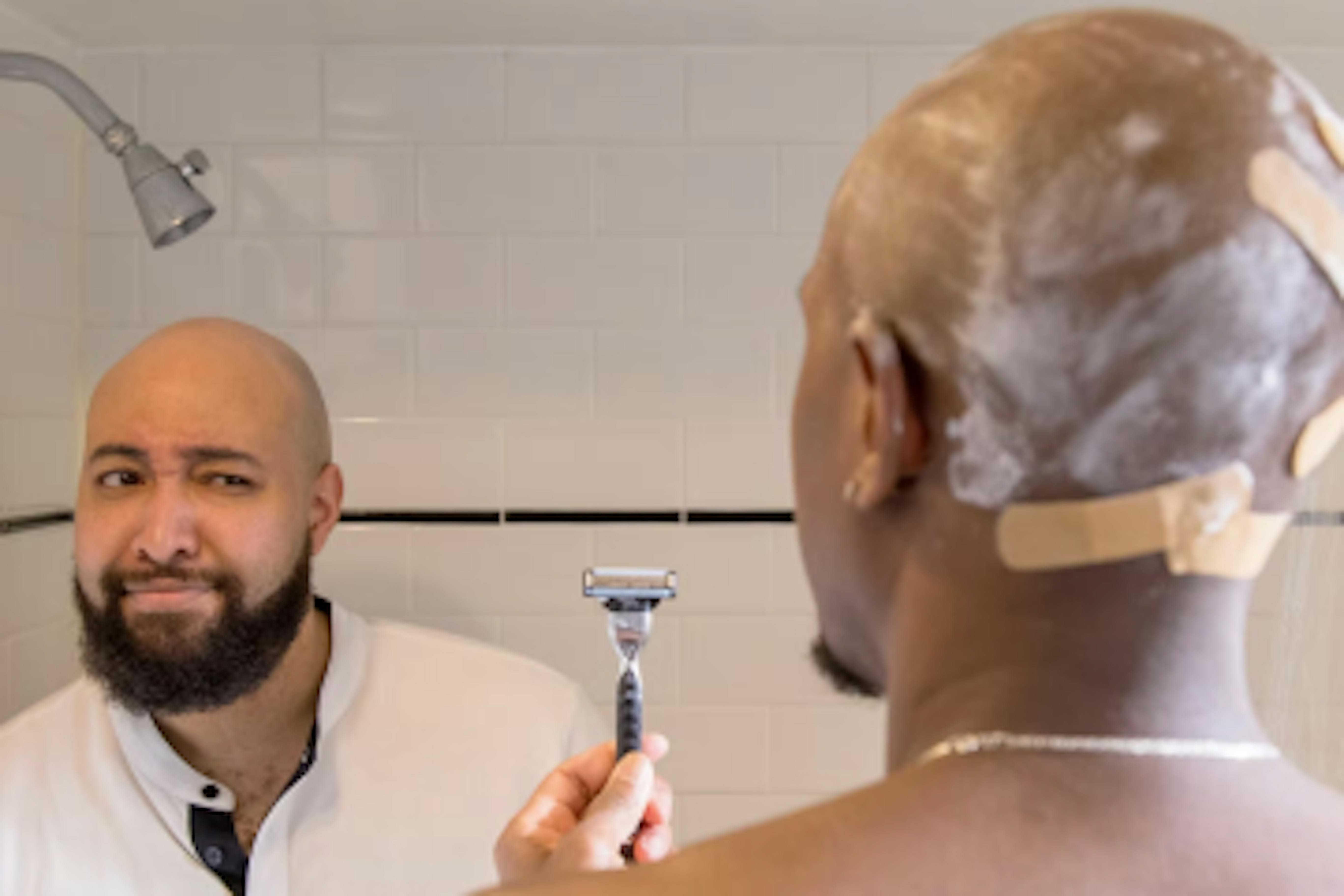 Goodbye nicks, cuts, and ingrown hairs
Adapting to the head's shape reduces the risk of nicks, cuts, and ingrown hairs. The blades cut hair at a uniform length, preventing it from curling back into the skin and causing irritation.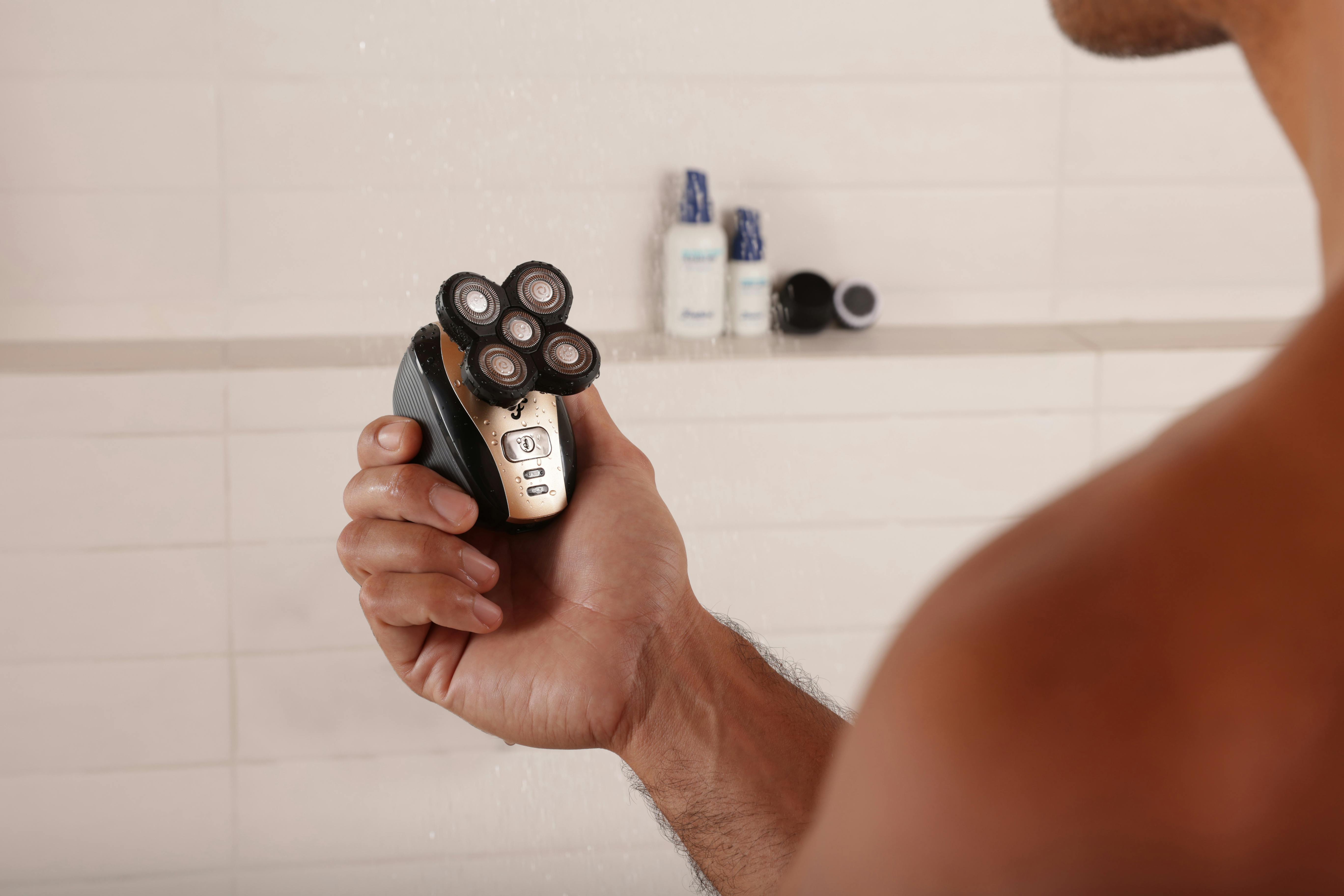 Head shaves made easy and convenient
Effortlessly shave quickly, at home or on the go. You can shave wet, dry, or in the shower, and the blades capture the falling hair so you aren't left with a mess, and cleanup only takes 10 seconds.
Gift Dad A Better Shave Or Get Your Money Back
Extended 60-Day Money Back Guarantee for Father's Day
Get Dad the Flexseries™ Kit and let him use it and love it! If he's not happy, get a 100% refund. No questions.
Lifetime Warranty
Get a lifetime warranty included with your FlexSeries™ and say goodbye to cuts, irritation, and ingrown hairs forever.
Fast & Free USA Shipping
Get your products fast! Orders typically arrive within 3-5 business days from our New Jersey location.