Healthier legs after 15 minutes of daily use
This revolutionary massager deeply stimulates the foot and leg muscles with low-frequency electrical pulses, aiming at trigger points and relieving tension from the source
✔ Relieves muscle plantar fasciitis and inflammation.
✔ Very effective solution
✔ for high blood pressure to relieve leg swelling , improve blood circulation, stimulate lymphatic drainage
✔ It is suitable for people who have foot pain caused by standing all day long, neuropathy and other diseases or foot pain due to work.
✔ 96.6% of users reported immediate relief
✔with the 45-day money-back guarantee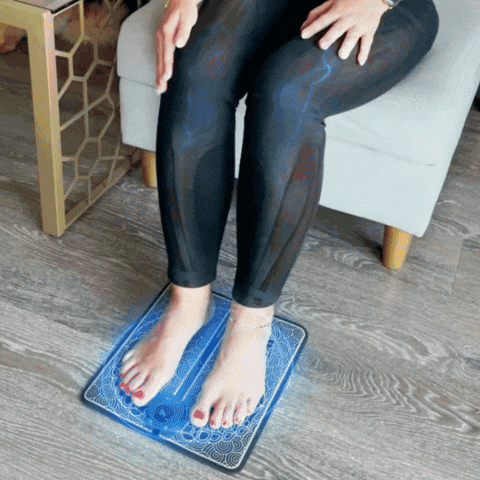 Swollen feet often cause further foot pain
If a swollen foot is not treated properly, it can lead to foot problems. Some common problems caused by untreated swollen feet are: difficulty walking, reduced blood circulation, and even heart or kidney failure.
8 Modes – To meet your massage needs, smart artificial massage techniques can be freely combined according to personal preferences and body stress levels.
18. Adjustable intensity – directly stimulates acupuncture points, reduces physical and mental fatigue, and improves sleep.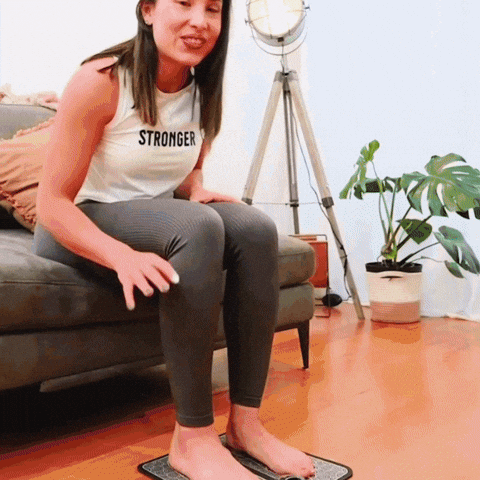 How to use
After a long day of hard work, or even just wearing a pair of uncomfortable shoes, it only takes 15 minutes a day to relax your feet, help you maintain healthy blood circulation in your legs, quickly relieve swollen legs and feet, and relieve tired, sore feet.
Step 1:
Connect the operator device to the foot pad, which uses three buttons to control different functions.
Step 2:
Place your feet on the floor, press the "+" or "-" button to turn on the device, and adjust the intensity. Press "M" to switch modes.
第三步:
您已准备好在自己的空间中体验诊所般的按摩。为了获得有效的效果,每天使用 10-15 分钟,每周 3-4 天。


Every purchase is backed by an ironclad "45-day, 100% money-back guarantee."
I know what you're thinking right now – "This looks great, but will it really work as promised?" Or is this another internet gimmick?
We get it. You may have been burned by other pain-relieving devices that promised the world but failed to deliver.
That's what sets us apart. After receiving the product, you have 45 days to use it. If for some reason you don't get foot pain relief…
Simply email our support team and we will refund your purchase amount in full. We'll even let you leave the product out of convenience.
We strive to bring you the best and best quality products on the market. We ship all orders with tracking numbers and keep you updated when your order is sent to you.