Accessories: 

Strap,Charger,User Manual,Retail box

Band length[mm]: 

260

Band width[mm]: 

20

Weight[g]: 

0.168

Voice assistant built-in: 

YES

Bluetooth-compatible Version: 

5.0

Metrics measured: 

Heart Rate Monitor,Other,Blood Oxygen Monitor,Sleep Monitor,Blood Pressure Monitor

Activity Tracked: 

Other,Steps Tracker,Distance Tracker,Calorie Tracker,Activity Tracker

Touch Screen: 

YES

Category: 

Smart Watches

App name: 

Dafit

Screen Material: 

IPS

CPU Model: 

Hs6621PG

Band Detachable: 

Yes

APP Download Available: 

Yes

Battery Detachable: 

No

CPU Manufacturer: 

MediaTek

Resolution: 

420*480

Display Size: 

1.96 inch

Movement Type: 

Electronic

Style: 

Fashion

Application Age Group: 

Adult

Screen Shape: 

Square

Case Material: 

Alloy

Band Material: 

Silica gel

Waterproof Grade: 

Life Waterproof

SIM Card Available: 

No

Mechanism: 

Yes

Multiple Dials: 

Yes

GPS: 

No

Network Mode: 

None

Battery Capacity: 

300-450mah

Rear Camera: 

None

RAM: 

128MB

ROM: 

<128MB

System: 

Android OS,IOS,Android Wear

Type: 

On Wrist

Compatibility: 

All Compatible

Language: 

Portuguese,Spanish,English,German,Korean,Japanese,Russian,ITALIAN,Ukrainian,Dutch,French,Arabic

Function: 

Noctilucent,Passometer,World Time,fitness tracker,sleep tracker,Calculators,Chronograph,Permanent Calendar,Perspective Window,24 hour instruction,Message Reminder,Heart Rate Tracker,Interactive Music,Calendar,Dial Call,Push Message,Alarm Clock,Remote Control,Speed Measurement,Answer Call,week,Call Reminder

Brand Name: 

RICHFIELD

Origin: 

Mainland China

Certification: 

CE

Model: 

s8

Model 5: 

Ultra 8 watch

Strap Size: 

45mm

Screen Size: 

123 sports

Colors: 

Black,Silver,Orange,Green,Yellow

Function: 

Bluetooth Call,Bluetooth Music,Message Push,Body Temperature,Replaceable 44/45 strap,Alarm,Weather

Screen: 

Full Touch

Model 1: 

Smart Watch Series 8

Model 2: 

Smart Watch Ultra Series 8

Model 3: 

Smart watch for men

Model 4: 

Smart watch for women
Real images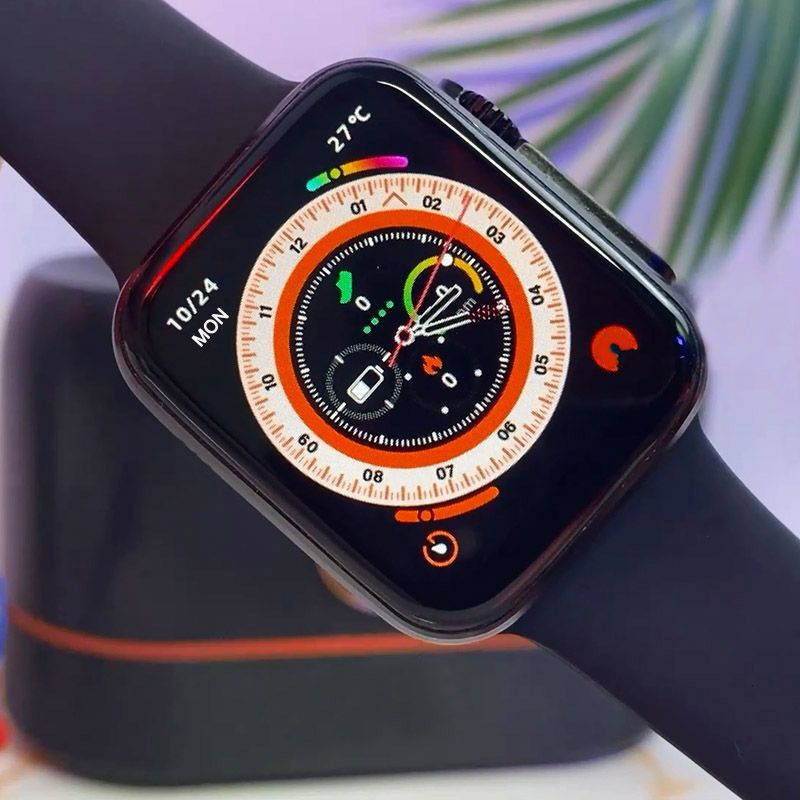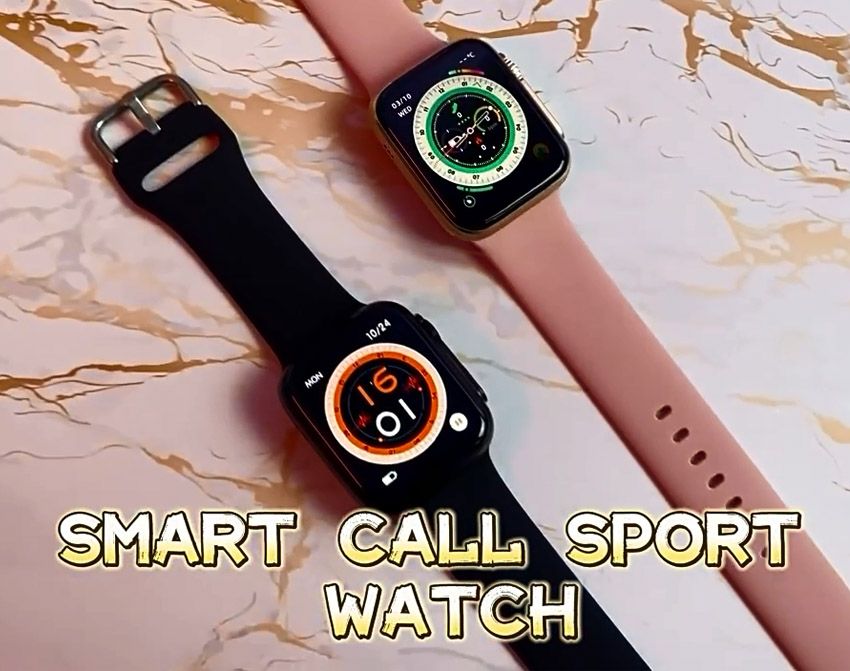 New IWO Smart Watch Series 8 Ultra Men Women Watches 1.96 inch 45mm Bluetooth Call Alarm Custom Dial Smartwatch 123 Sports Fitness Tracker Wristwatch For Android IOS
Our logistics is very fast, it only takes 7-12 days for our buyers to receive the package

Good Quality Smart Watch,buyers love it, buyers good feedback!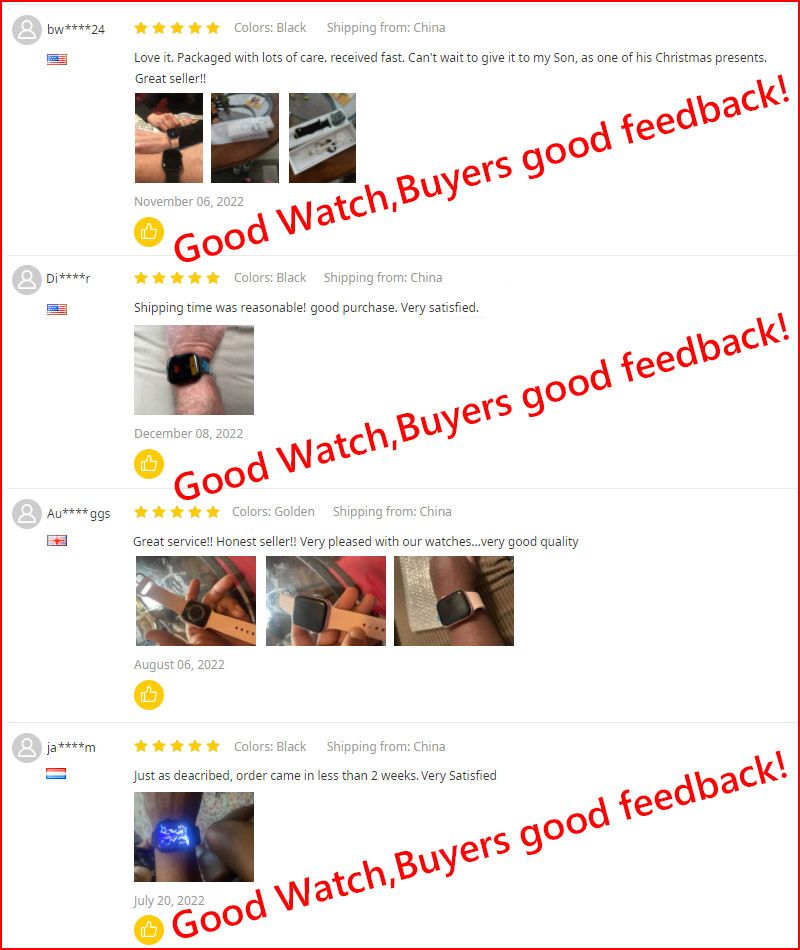 Smart Watch real photo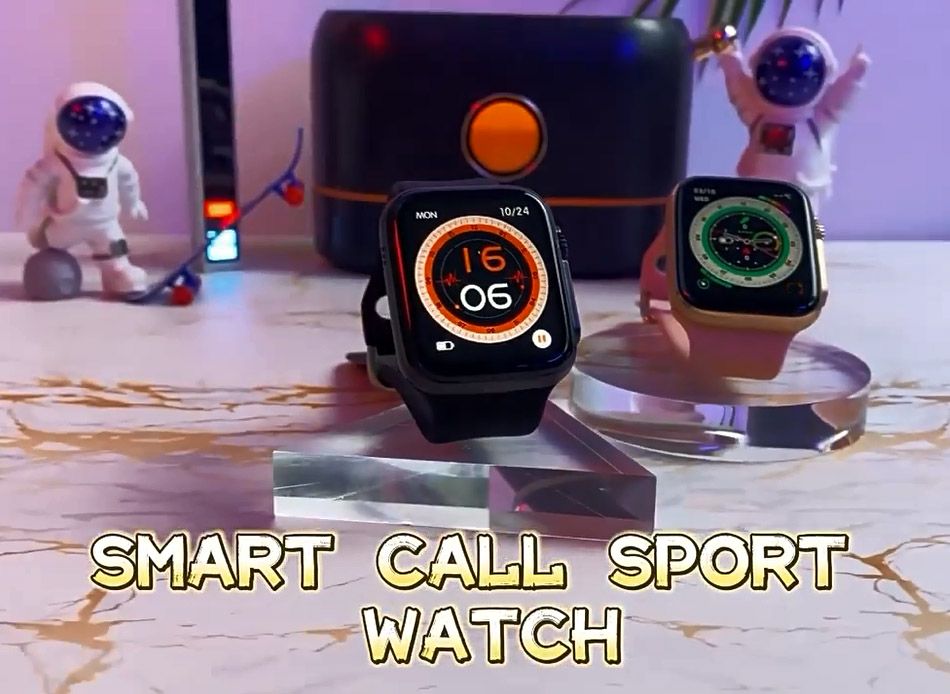 Smart call sports watch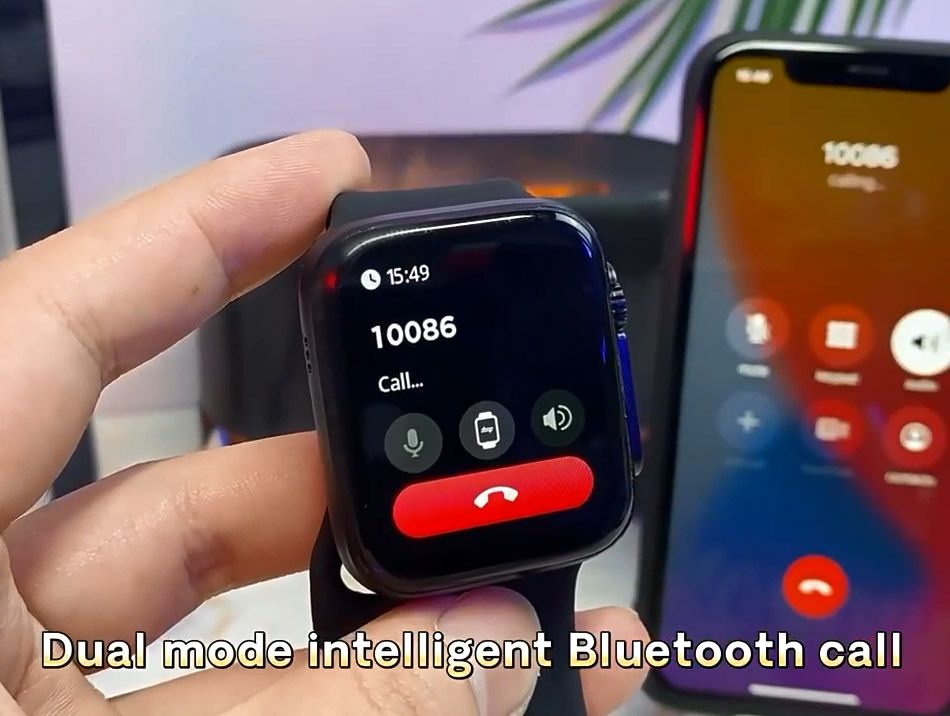 Dual mode intelligent bluetooth call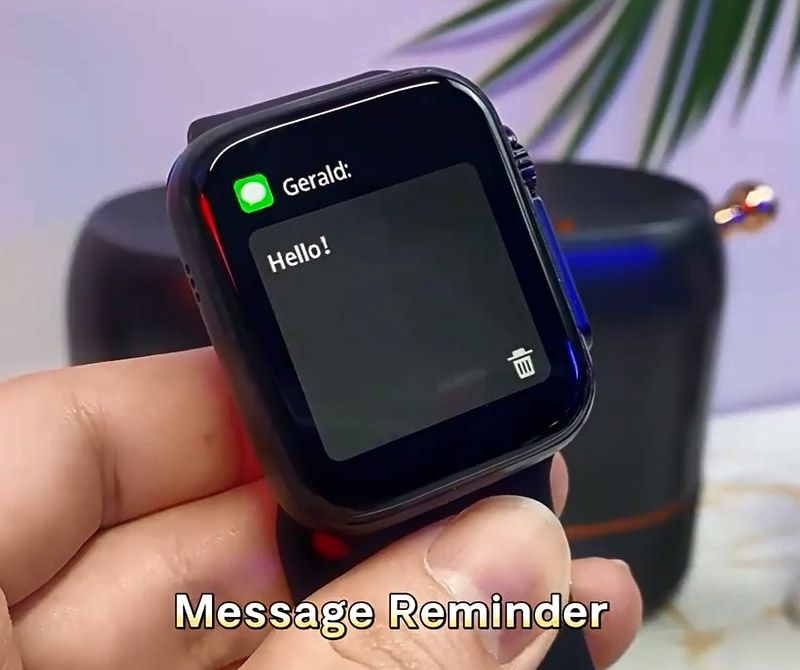 Message reminder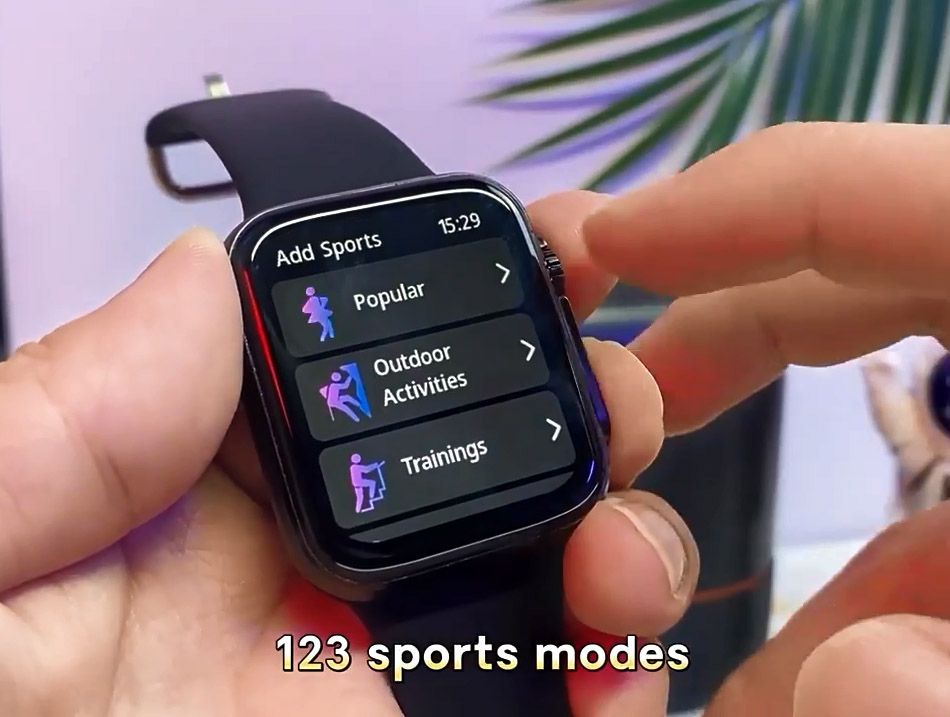 123 Sports modes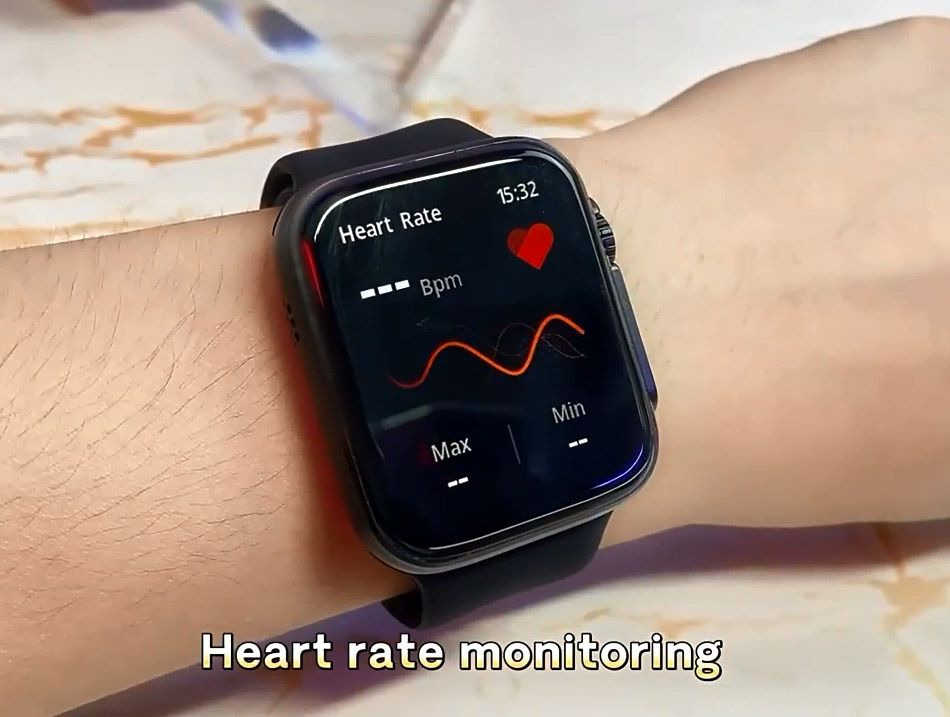 Heart rarte monitoring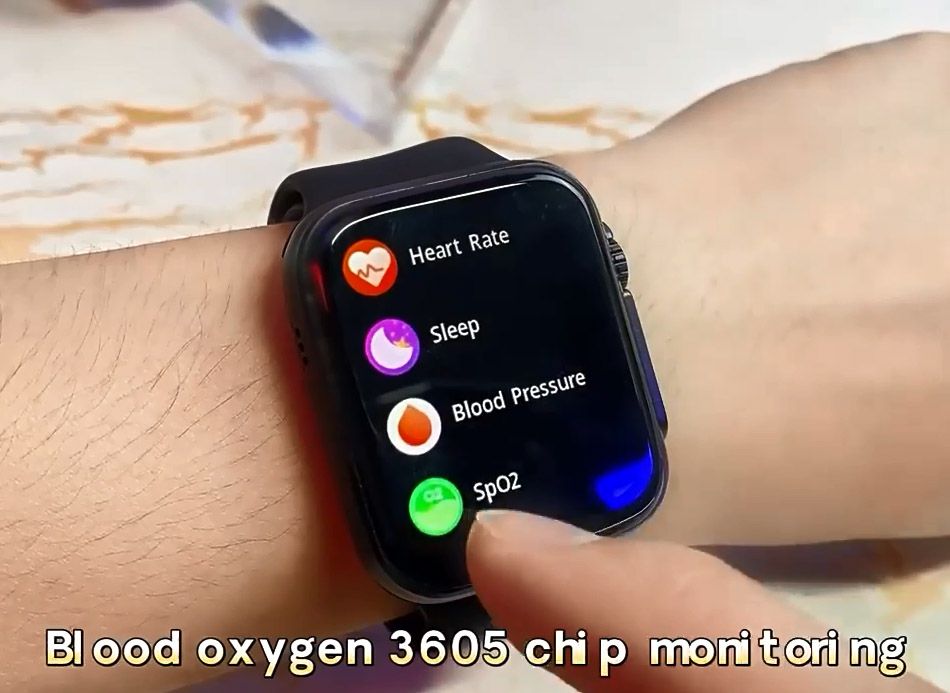 Blood oxygen 3605 chip monitoring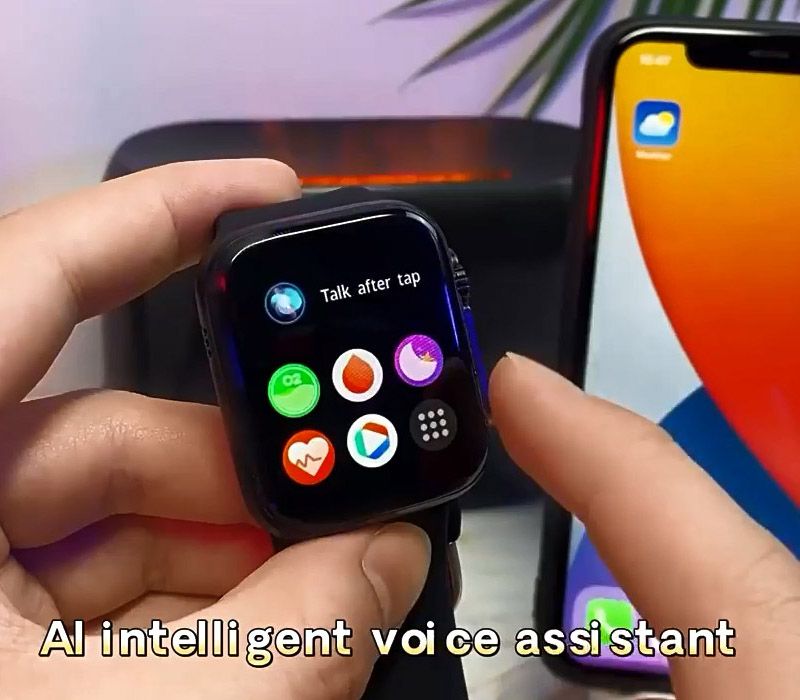 AI intelligent voice assistant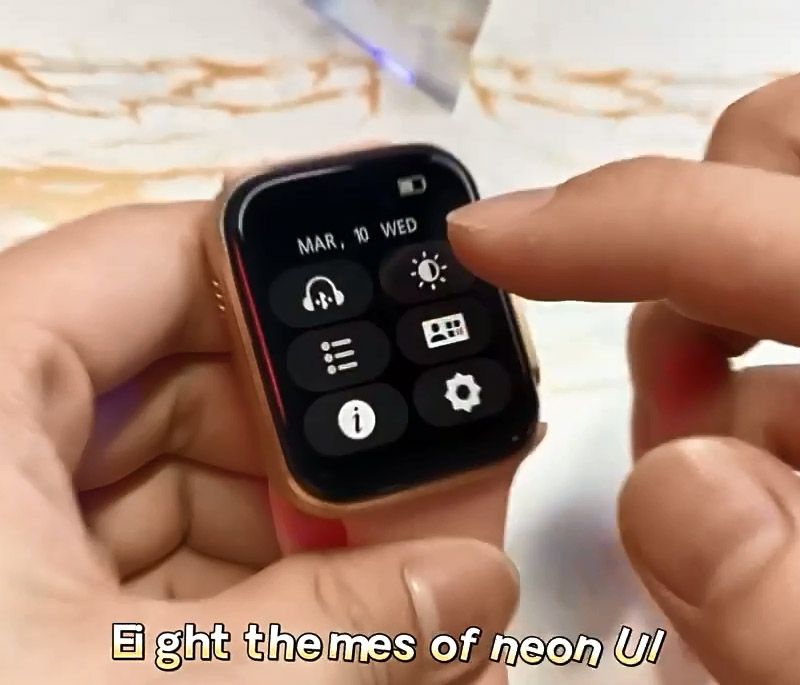 Eight themes of neon UI (Watch setting interface)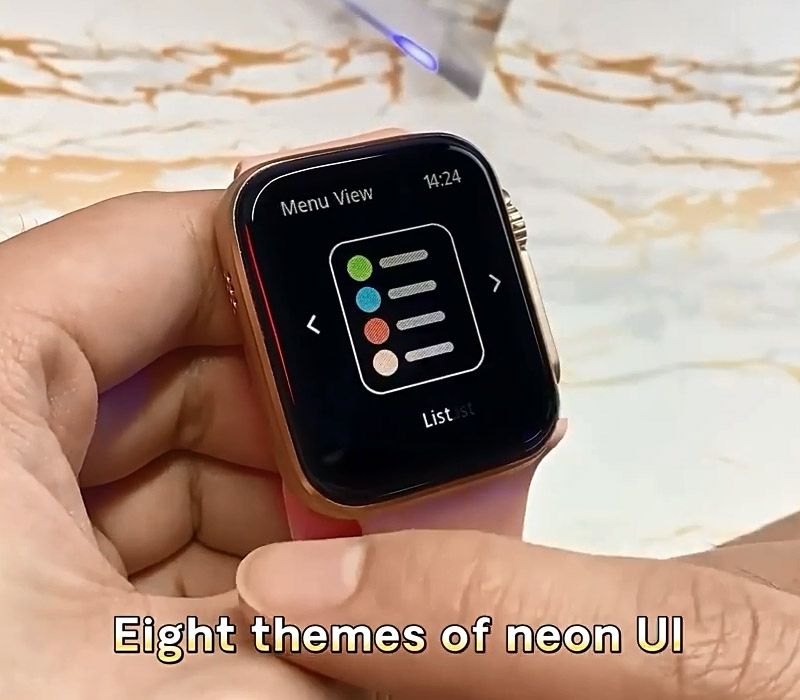 Eight themes of neon UI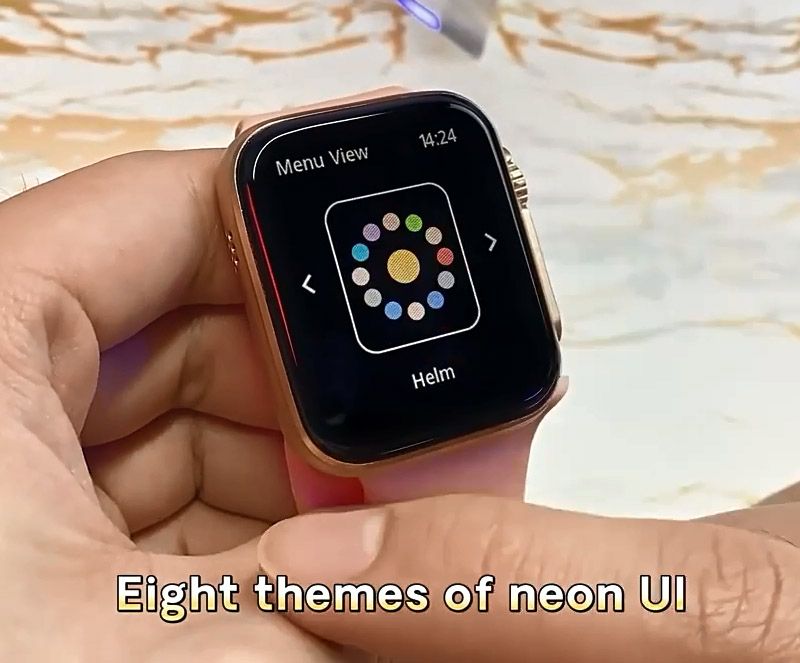 Eight themes of neon UI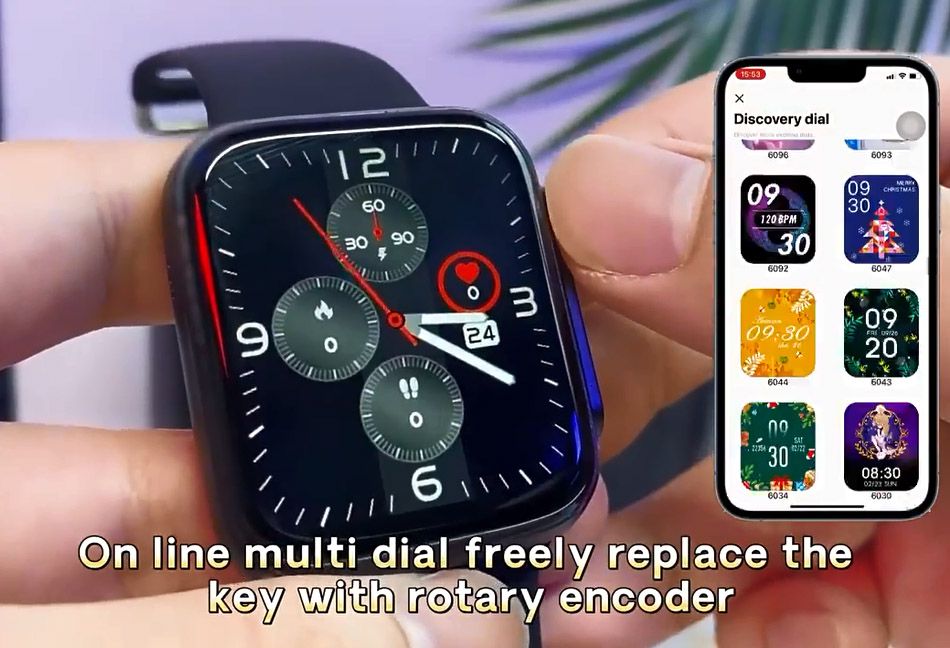 Online multi dial freely replace the key with rotary encoder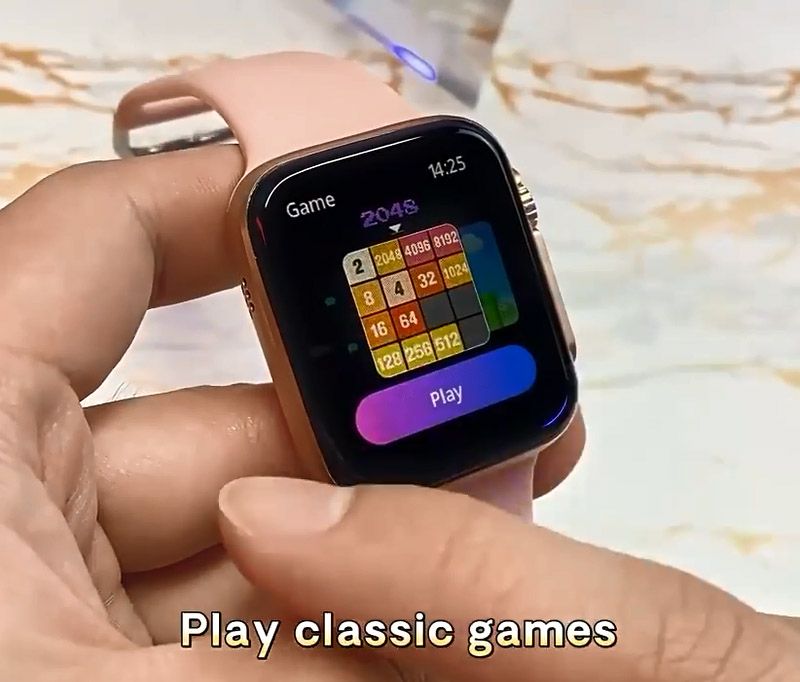 Play classic games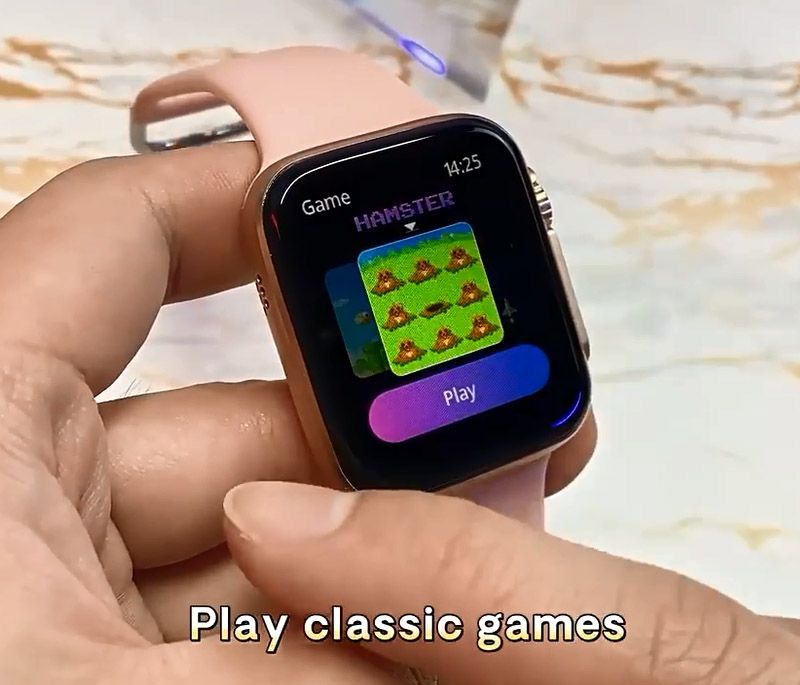 Play classic games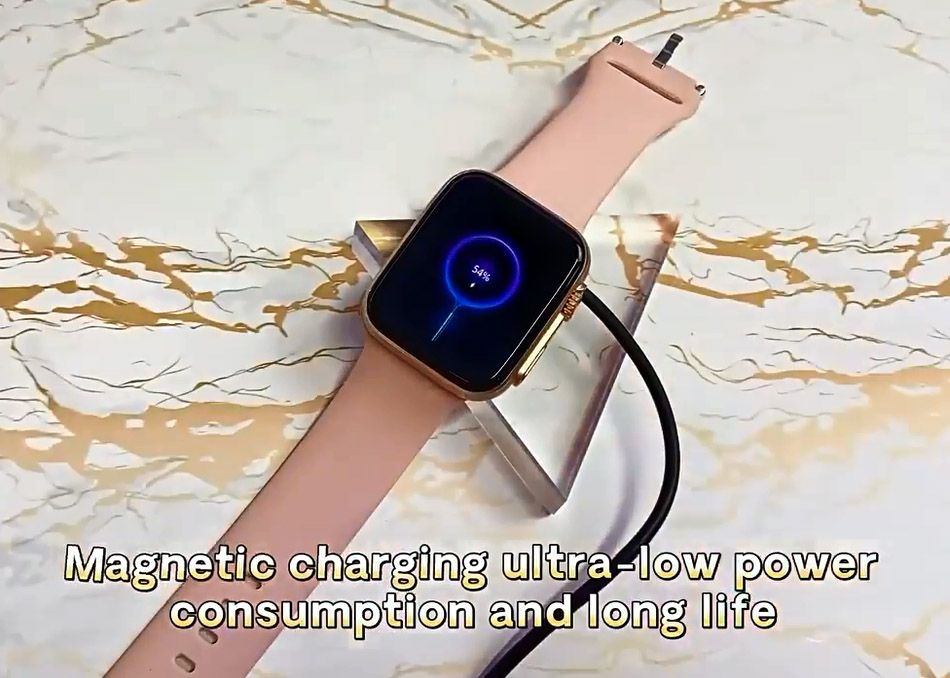 Magnetic charging ultra-low power consumption and long life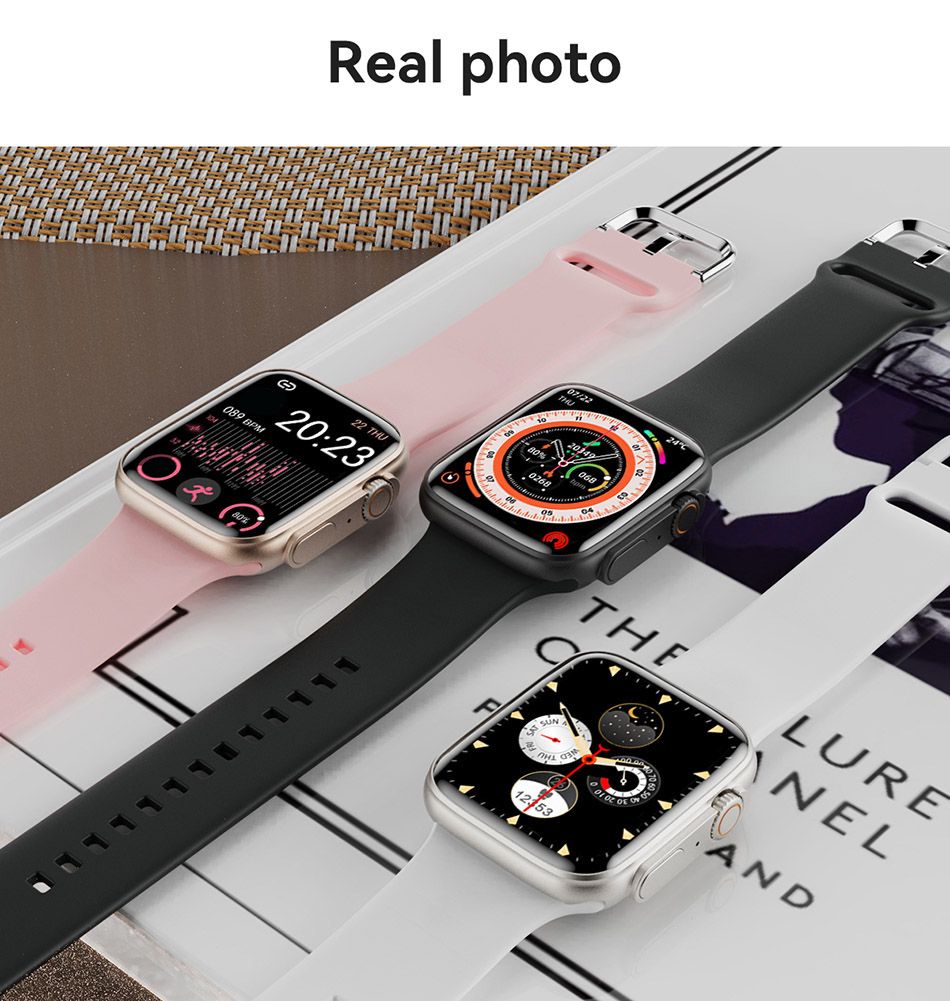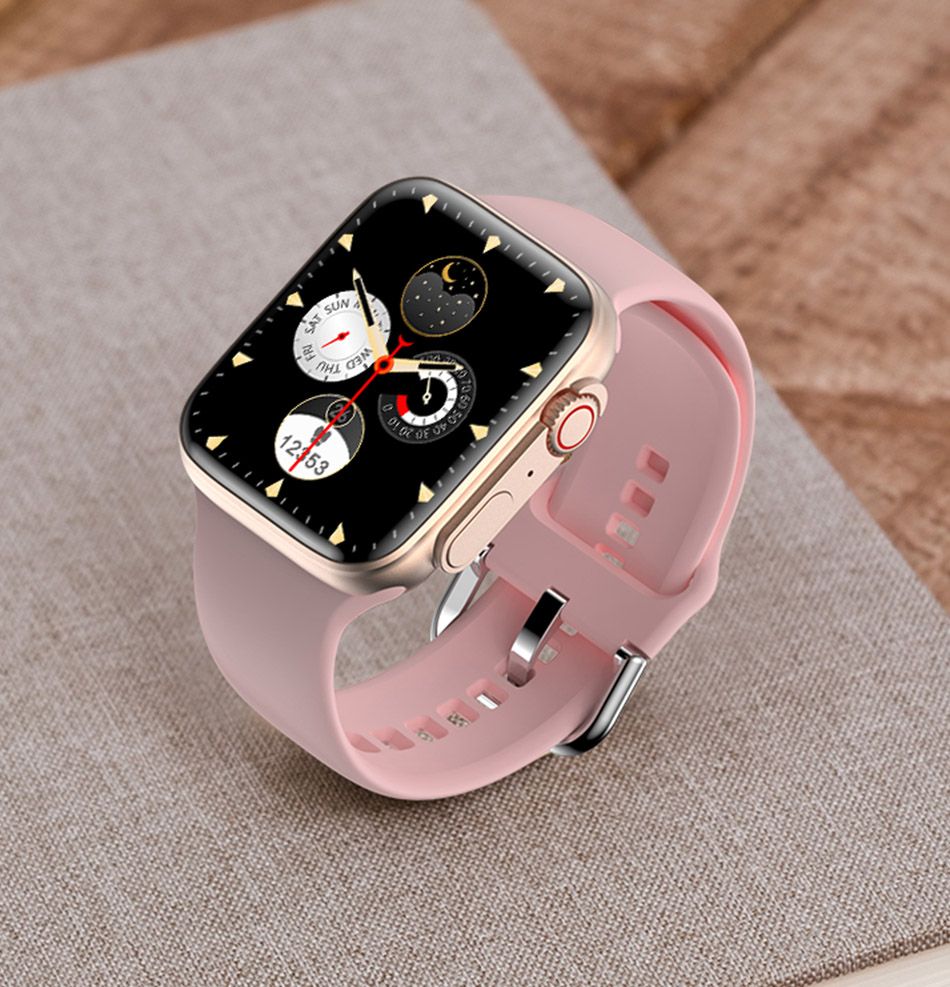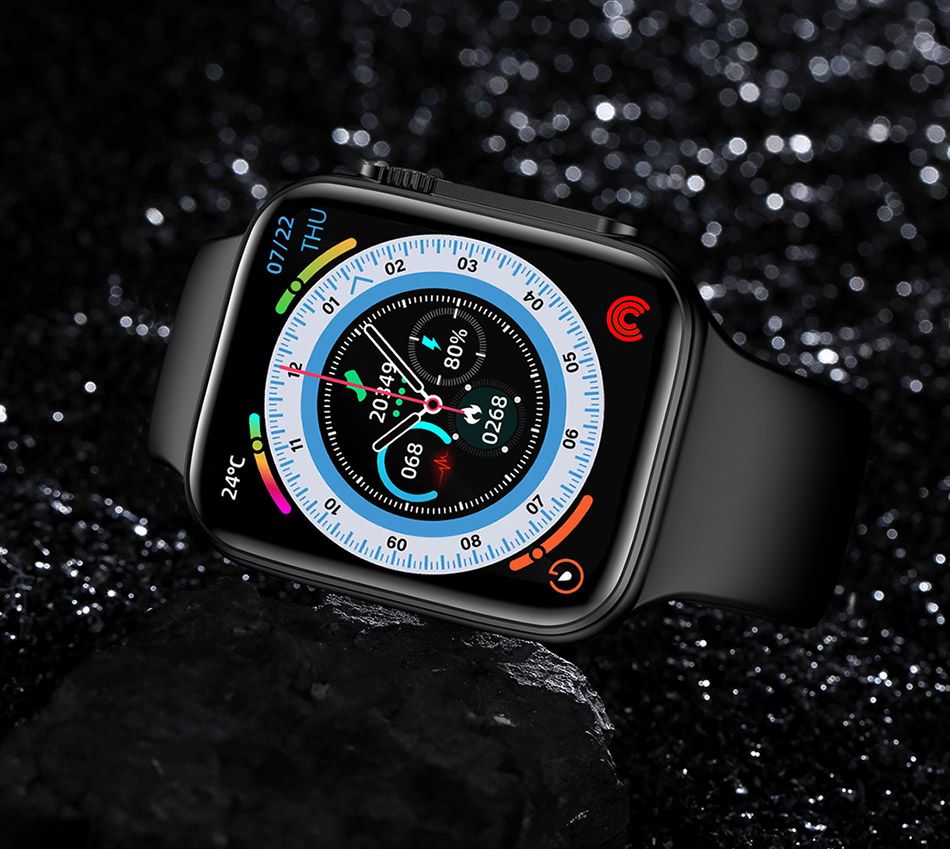 Product Parameter
Function points:
Dual-mode intelligent Bluetooth call,123 sports(123 kinds Exercise), 1.96 inch 420*480 HD touch screen, rotary encoder, real blood oxygen 3605 chip, neon UI:Eight sets of themes (level 1 menu with data pull-down display),intelligent language assistant, games, metal alloy housing, heart rate monitoring, blood pressure monitoring, blood oxygen monitoring, multi-exercise mode, custom dial, online multi-dial, multi-exercise mode, heart rate monitoring/blood pressure monitoring, blood oxygen monitoring, exercise recording.Sleep monitoring, message alerting, ultra-low power consumption and long battery life.
APP name: Da Fit
Main Chip: Goodix GR5515
Audio chips:JL AC6963A4
Blood oxygen:Red + infrared 3605 chip
Battery Capacity:Battery capacity: 300mah (pure cobalt cell of Seiko protection board)
Screen size: 1.96 HD 420*480 full touch rounded screen
Heart rate/blood pressure:HRS3300
Bluetooth:Bluetooth v:5.0(compatible Android 4.4 and IOS 9.0 above version)
Operation mode: Full touch screen+button
Sensor:QST QAM6100
Material:Zinc Alloy case+Abs
Strap:TPU length:265.8mm
Charging mode: Magnetic suction charging line (protect):USB 2.0
Functions:

Bluetooth calling: To answer reject the phone connection state bracelet end of dial phone call records
Music player: Can play music in the mobile phone, and control the mobile phone music playback
Health Monitor: blood oxygen, Step counting, sleep monitoring, heart rate, blood pressure, blood oxygen, sedentary reminder, water reminder
Sports modes: Number of sports steps, sports mileage record, card consumption, a variety of sports mode. Movement track (mobile APP display)
Standby time: 30 days standby and 4-8 days daily battery life (the above data are from the factory laboratory, and may vary depending on personal use environment and process)
Other functions: Mute alarm clock, remote photo taking, music control, sedentary reminder, water reminder, weather display,etc.
Wechat movement: Follow the public account, can share synchronization to WeChat campaign
App language: English, Arabic, Danish, German, Spanish, Finnish, French, Italian, Japanese, Korean, Dutch, Norwegian, Polish, Portuguese, Russian, Swedish, Thai, Ukrainian, Chinese, Traditional Chinese
Firmware language: Chinese, Traditional Chinese, English, German, Korean, Spanish, Japanese, French, Russian, Arabic, Ukrainian, Italian, Portuguese
Packing:
Color:3 colors (black, silver and gold)
PackingSmartwatch, Charging cable, Instruction, Packing box
WATCH size: 260*38*11MM(length, width and height)
Box Szie: Color box: 140 * 100 * 29 mm,
Cases: 50 sets per case.
Weight: Single machine: 53G (watchband included),
The whole machine: 149 g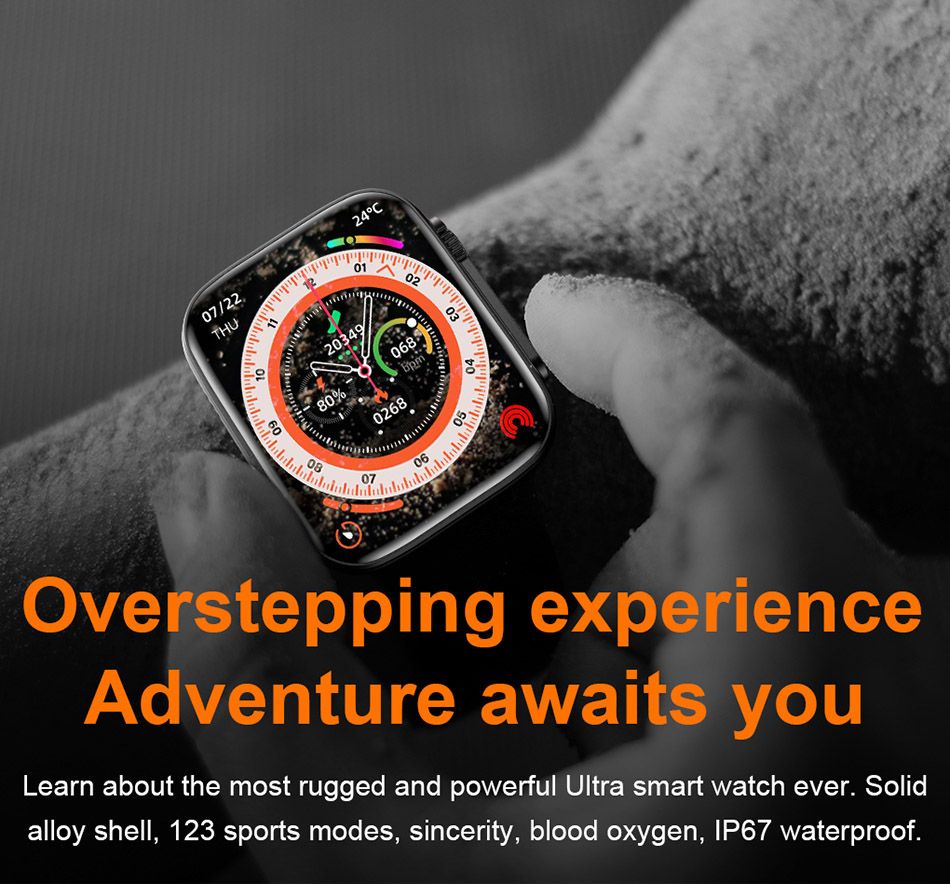 Overstepping experience Adventure awaits you
Learn about the most rugged and powerful Ultra smart watch ever.Solid allow case,multi-sport modes,sincerity,blood oxygen.
Design: Pioneering engineering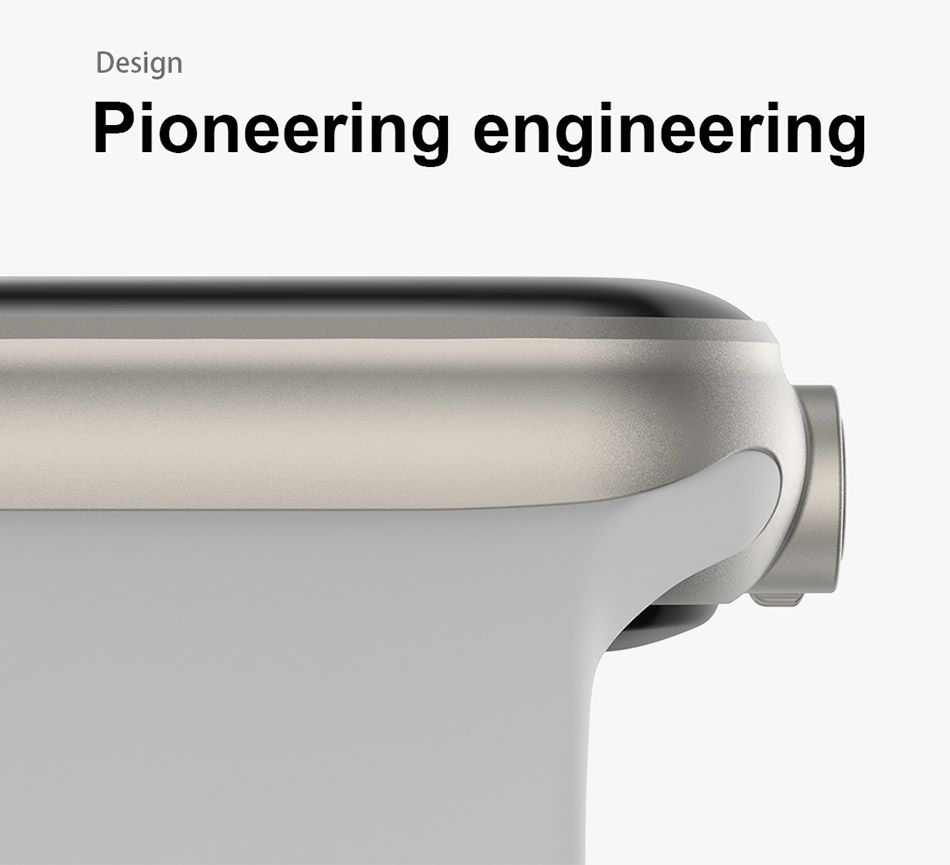 Adventure awaits:
In order to create this super sports watch,we carefully polished every design,repeatedly studied every detail,and tried to bring the performance beyond the limit.The alloy housing can balance the weight skillfully and is sturdy,and has excellent corrosion resistance.The new case design has raised edges to protect the explosion-proof glass watch mirror from impact.There are also larger digital watch crowns and protruding side buttons,Which are easier to use and can be easily controlled with gloves.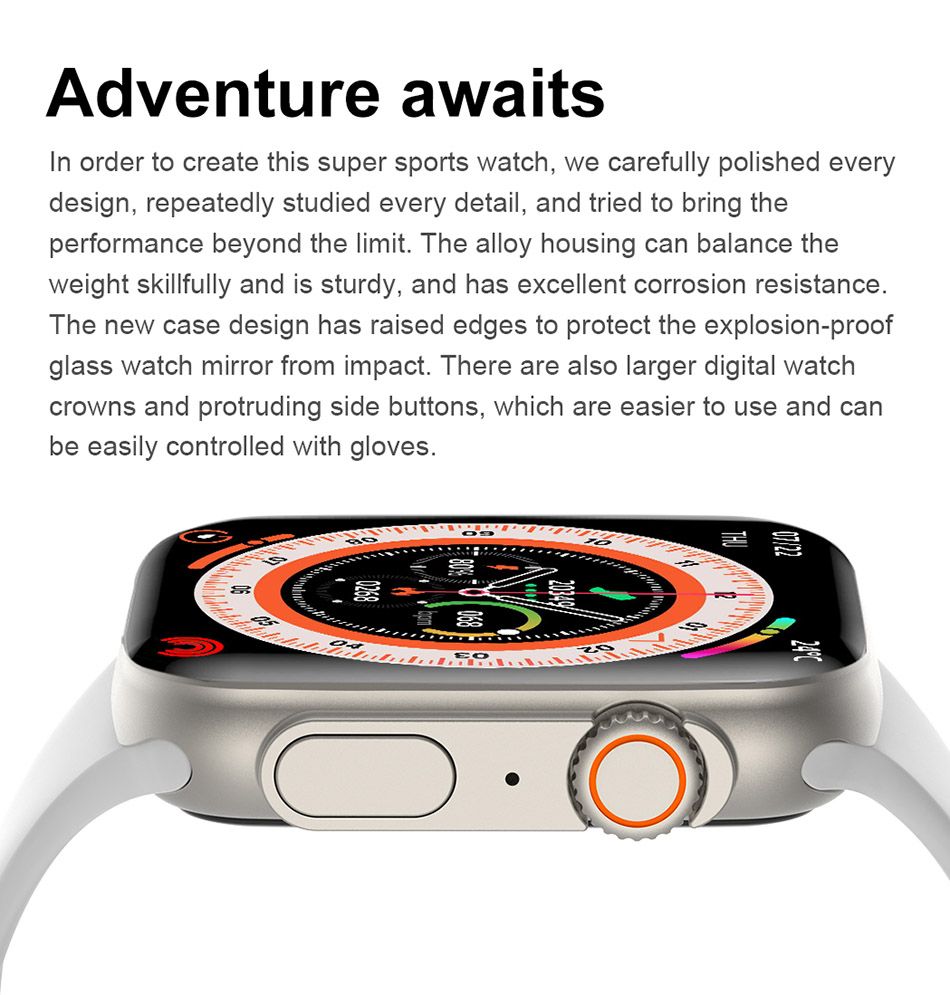 Larger screen and full display
1.96 inch IPS high-definition colorful display screen is still clear and readable under direct sunlight.bringing a clear visual experience on the wrist; The side is equipped with and atmospheric and practical rotary button,which is quick and sensitive,and greatly improves the overall use experience.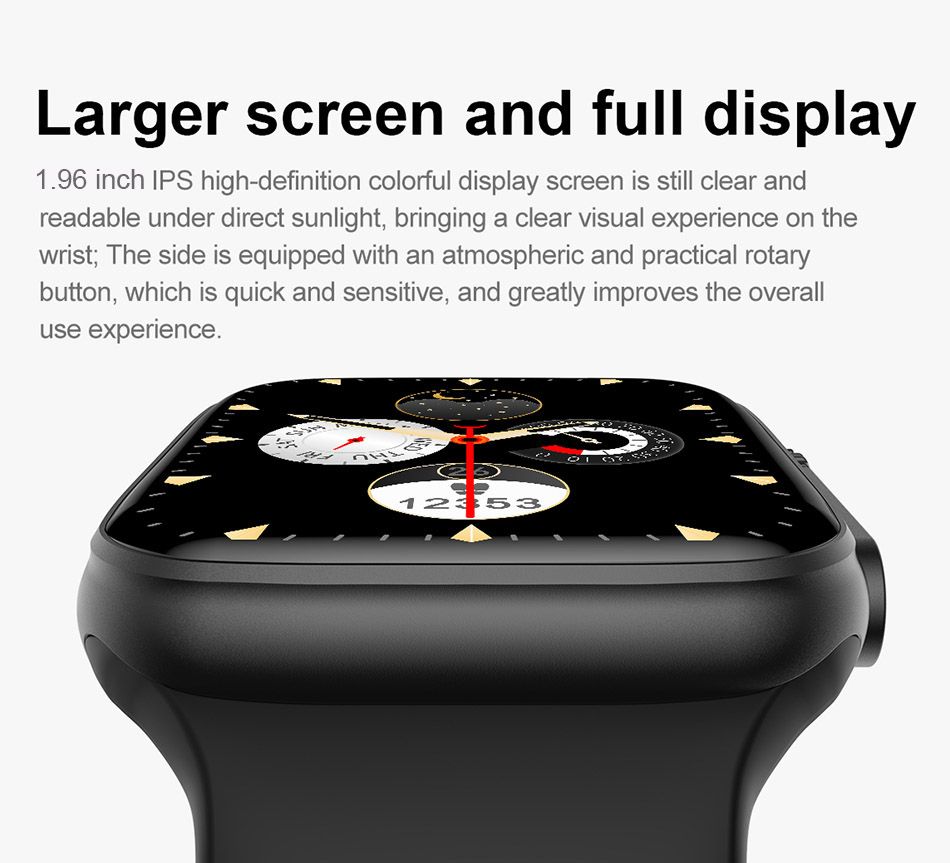 Endurance sports,To surpass,cross country running
Physical training goes further,bringing heart rate,blood pressure and other parameters. More sports functions,super long battery life,and various sports requirements are met one by one.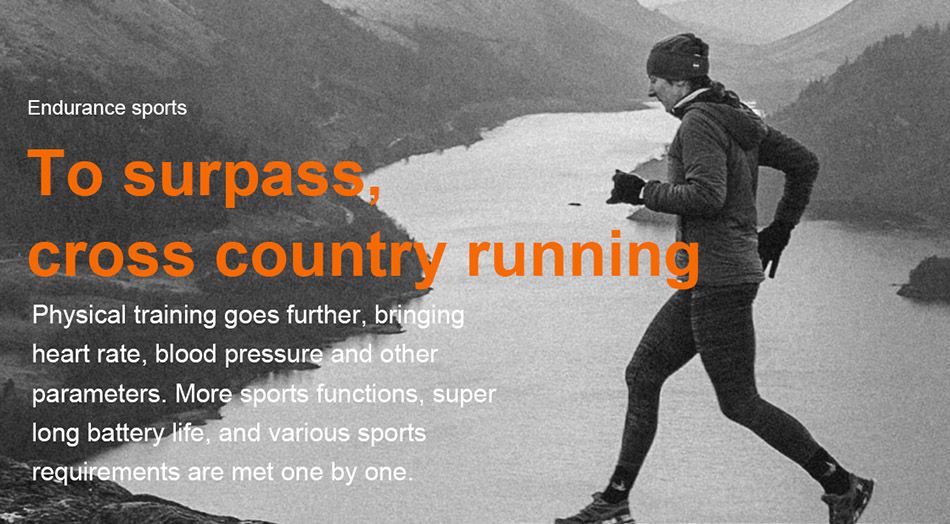 Multi-Sport modes
Support a variety of professional sports modes,including running,walking,cycling,mountaineering,etc., to provide more detailed sports data and sports related indicators,making each sport more professional and scientific.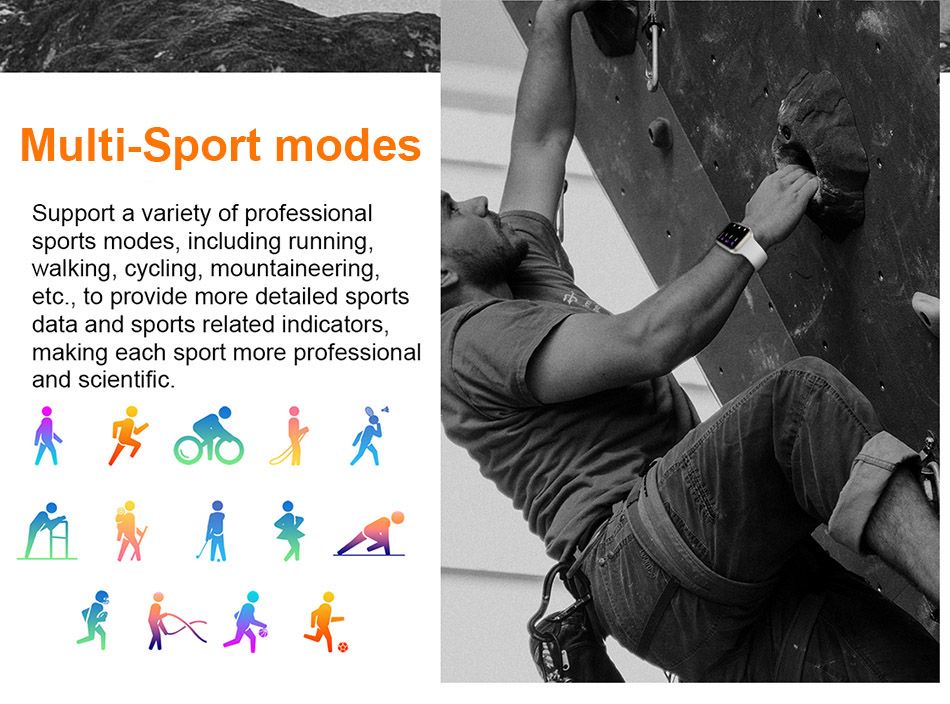 Motion data analysis
The watch is equipped with a new generation of exercise algorithm,which can learn the heart rate, steps,exercise time,exercise effect and other data analysis during exercise,making your exercise more professional.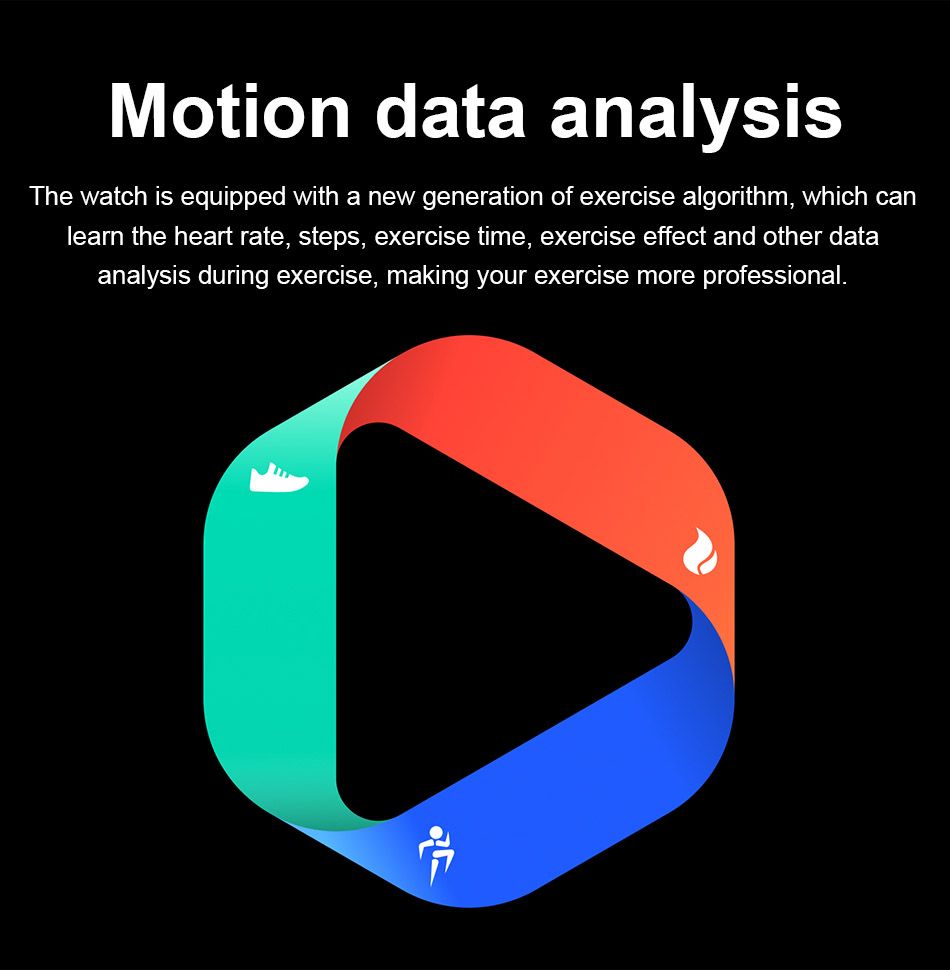 Put your world on your wrist
Flashlight,remote control photo taking,online music listening,voice assistant,long sitting reminder… various functions are all done on the wrist.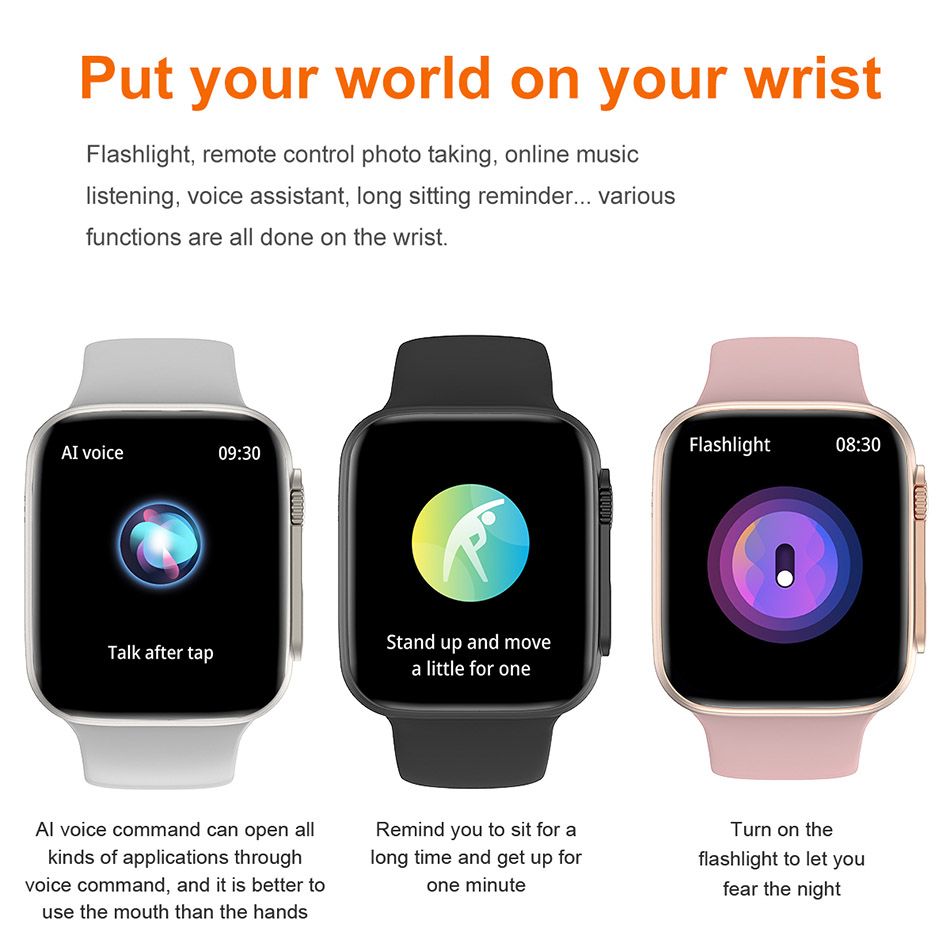 Long endurance low power consumption
It is more comfortable to charge,just put down your watch each time and wait for full charge. The built-in 300mAh large battery optimizes the hardware power consumption management inside the call,and the newly upgraded power consumption optimization,so that you don't have to worry about low power.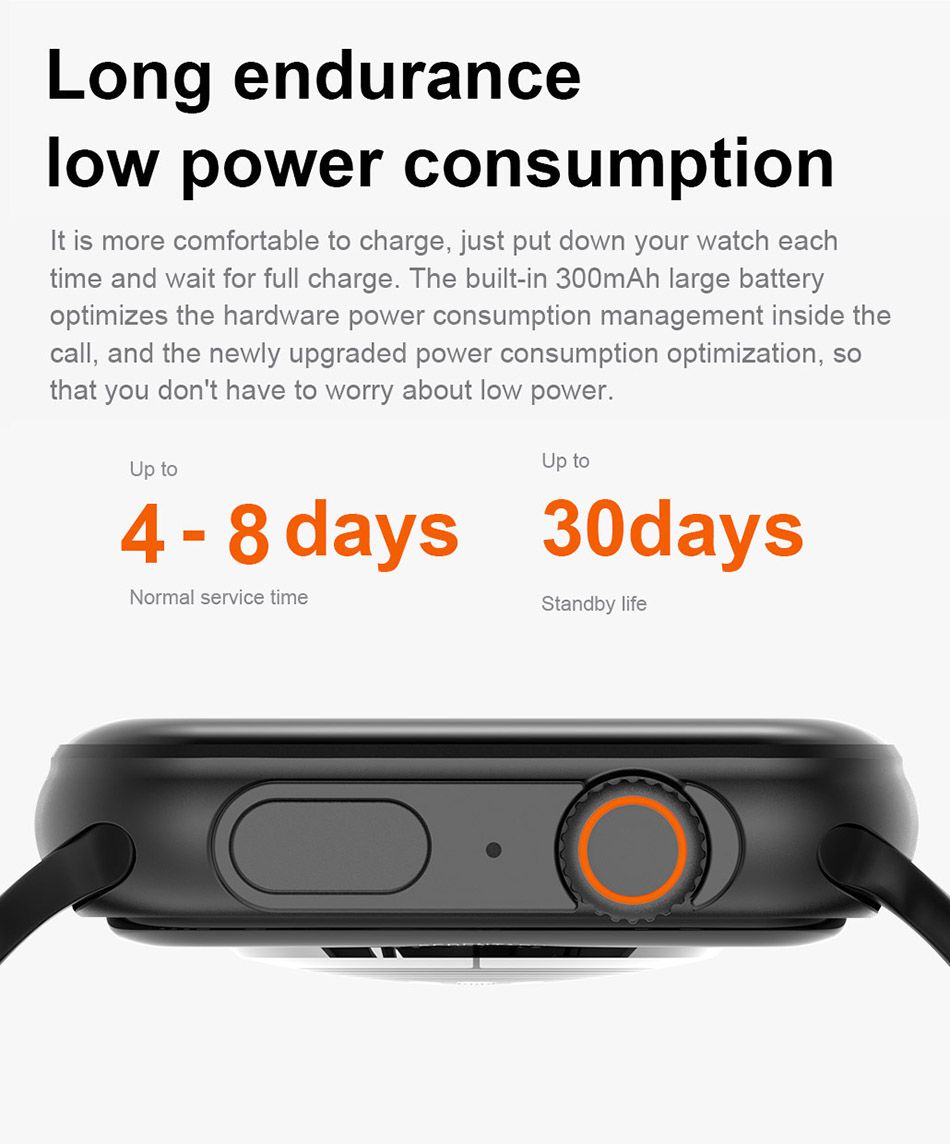 Keep in contact All the contacts you care about are online
Bluetooth Calls and messages. Synchronize mobile phone contacts,call records,call making and answering,built-in loudspeaker,Device and microphone,quick check of SMS,and do not miss important calls during work,meetings and driving.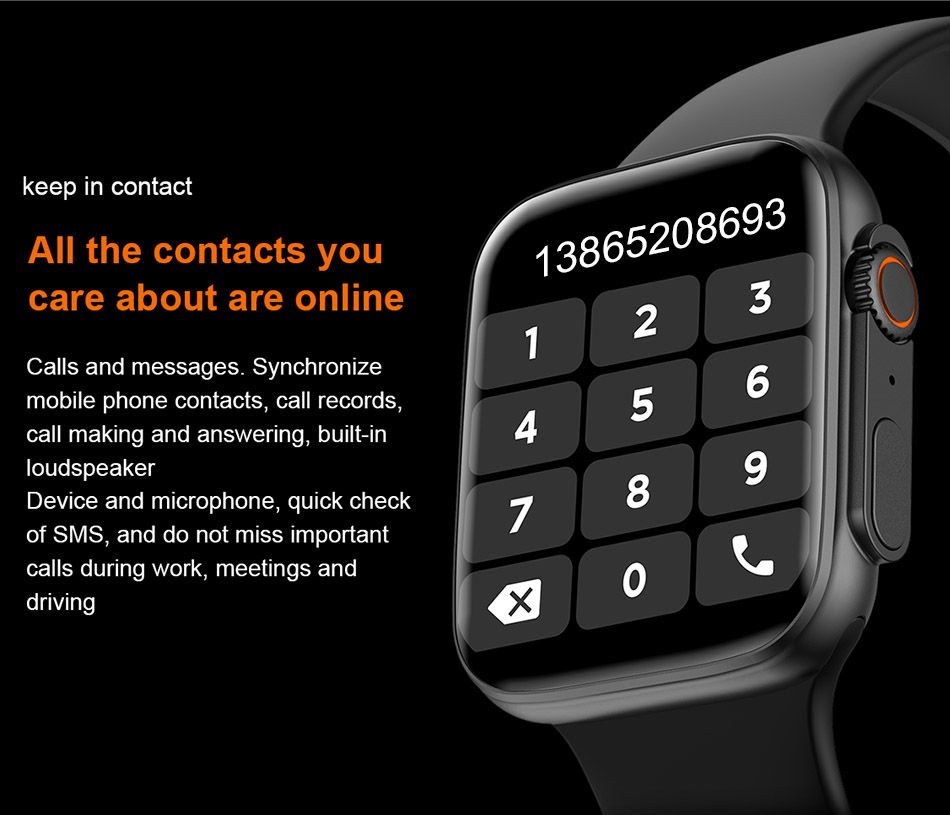 Bluetooth Call: With this watch,you can use it to call or answer your friend's mobile phones,It is so easy to make phone calls with a watch.
Easy communication,call reminder without loss of connection,you can choose to answer or reject, and never raise your hand tocommunicate anytime,anywhere.Lost connection. In addition,the watch also supports the synchronization of mobile phone contacts and call records,whether it is direct dialing or communication. You can easily get the information records with one key dialing.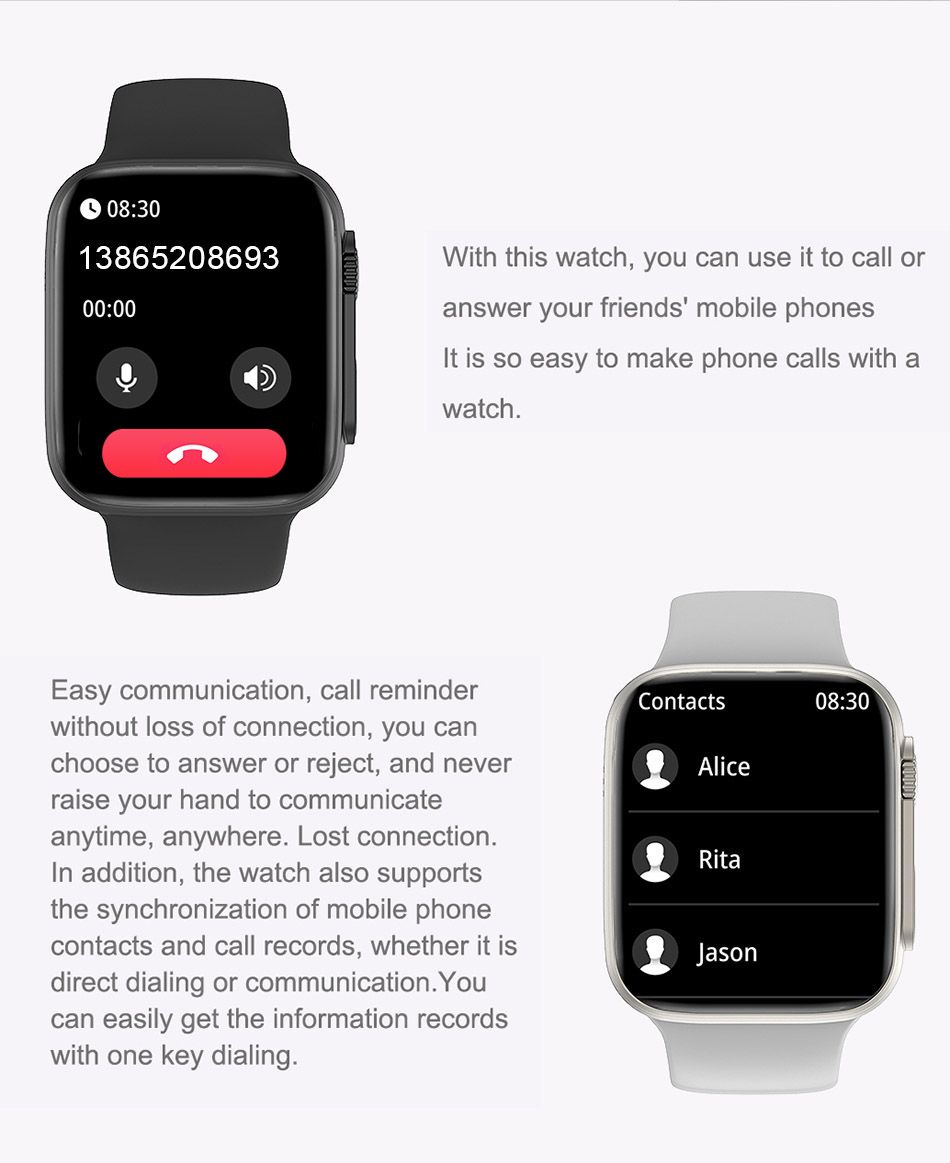 Real-time message reminder
After connection to the phone,it supports message pushed such as SMS,Facebook,Instagram,WhatsApp,Twitter,etc., so you don't miss important news.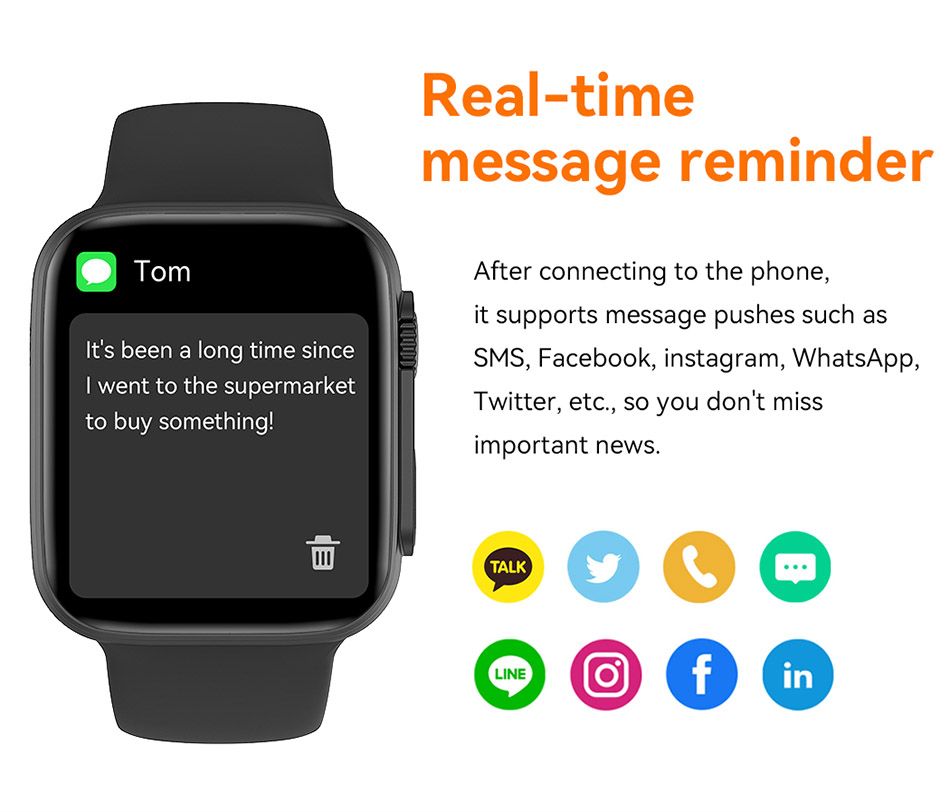 A large number of dials can be replaced if you want
Built in multiple dials, 200+ dials can be downloaded free of change to support customized design,DIY your exclusive dials.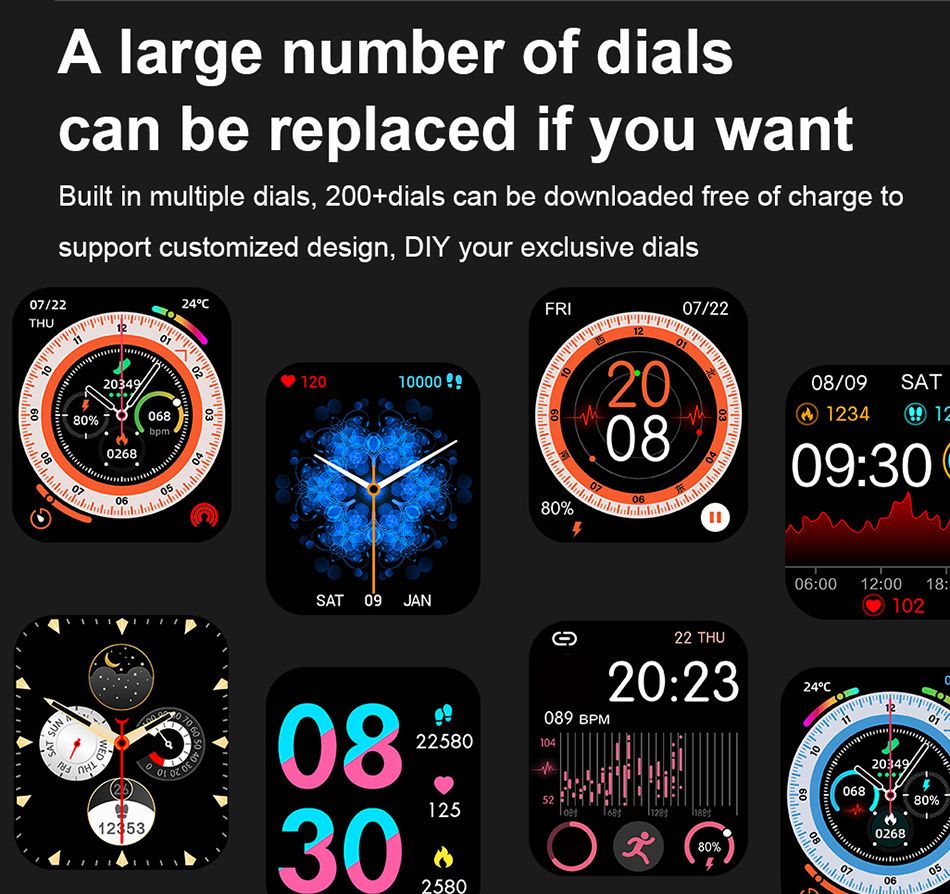 Customized dial wrist changes as you like
You can Custom create you own personalized dial,select pictures and take selfies to edit different scence effects as your unique experience.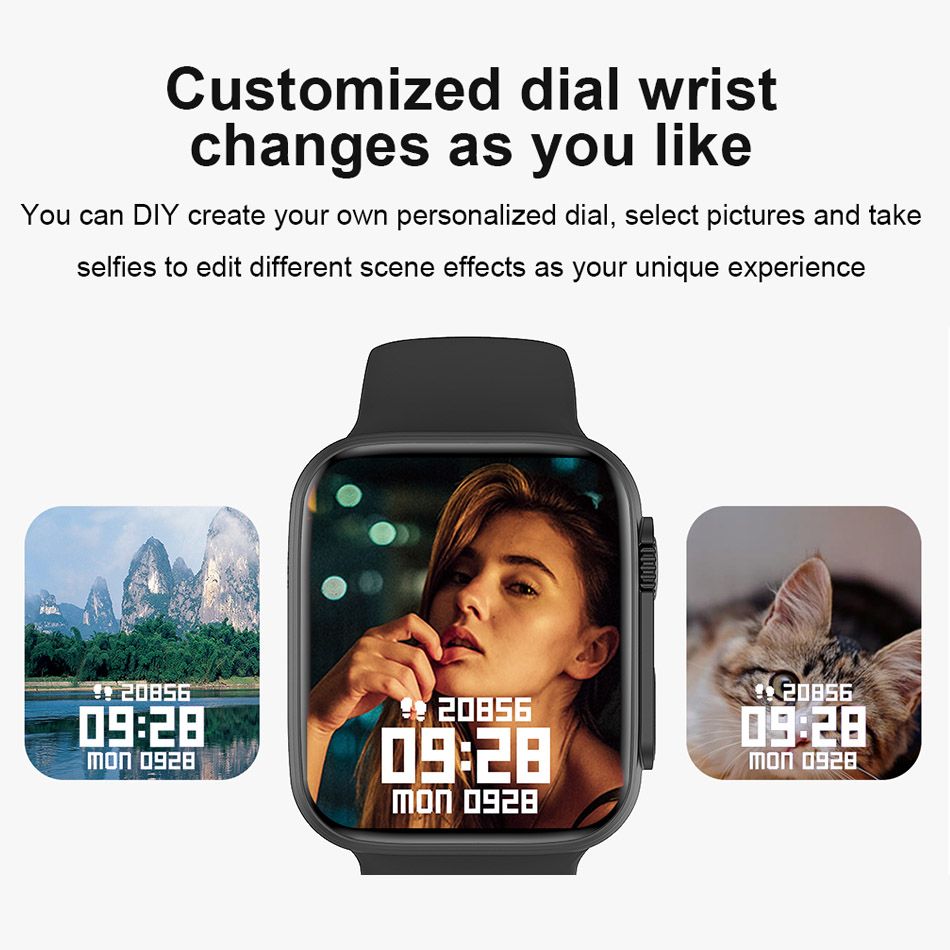 New interactive multiple UI options
Menu style,switching at will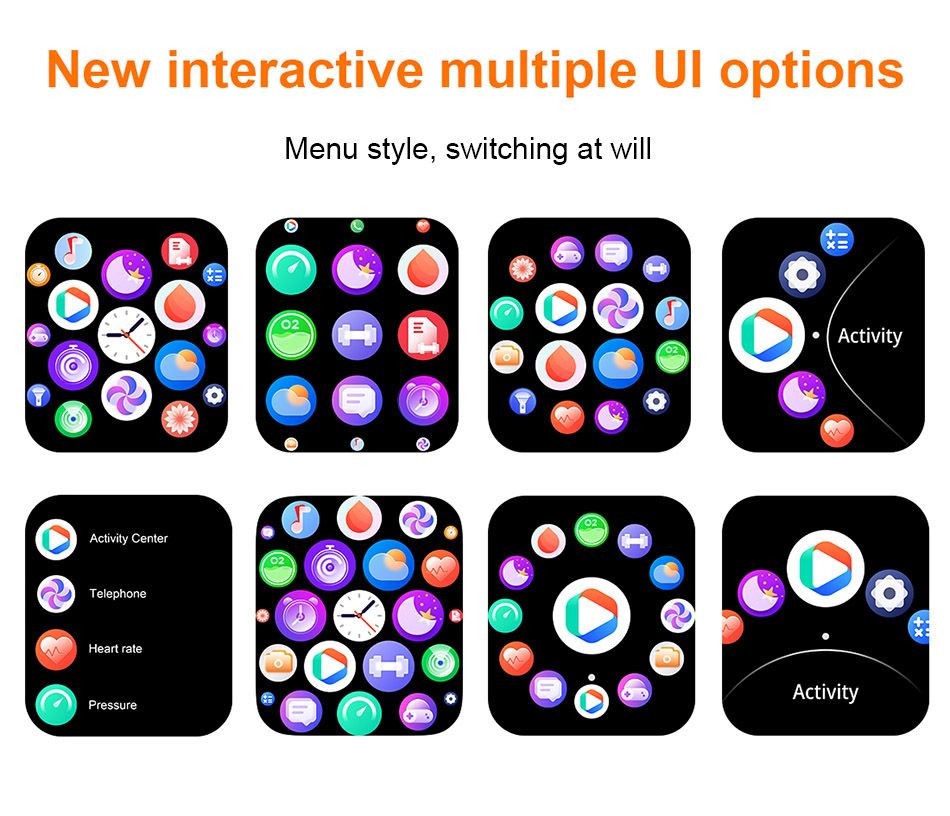 Rotate the button to easily control the interface
Simplify the complicated operation,and make your interaction simple and natural.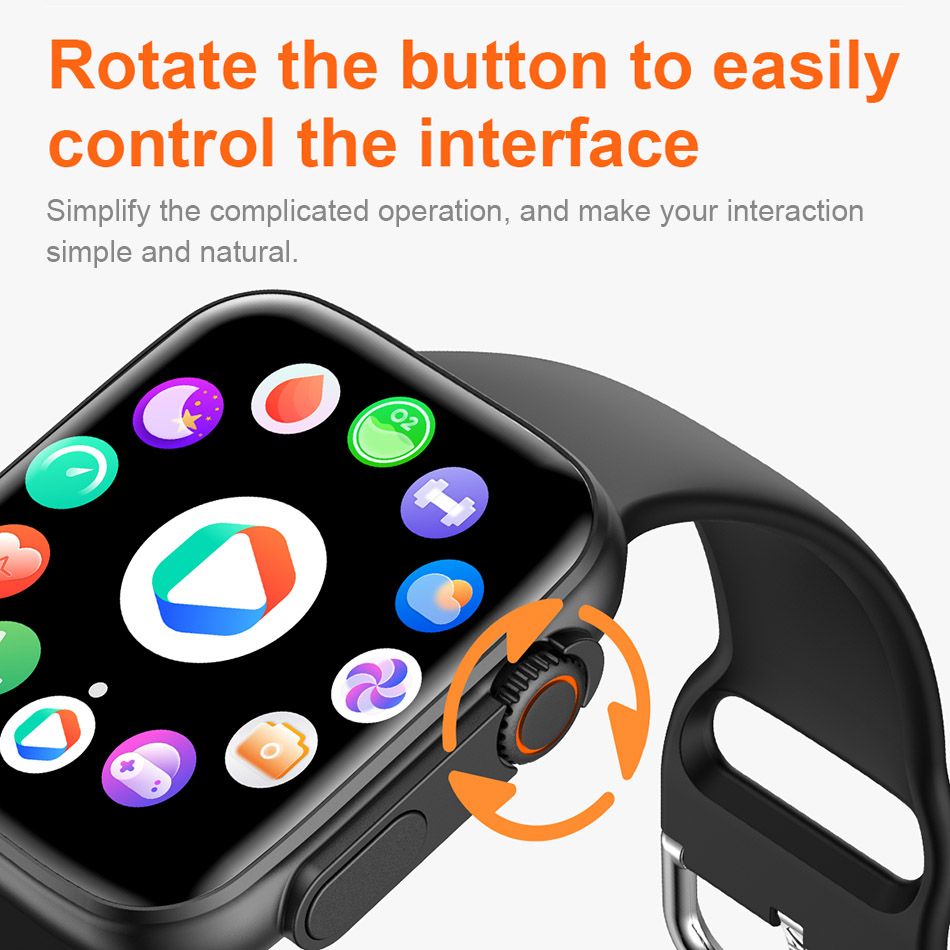 Intelligent heart ratre detection
Intelligent recognition of heart rate,blood pressure,blood oxygen,sleep and other information,and multi parameter fusion judgment to provide you with.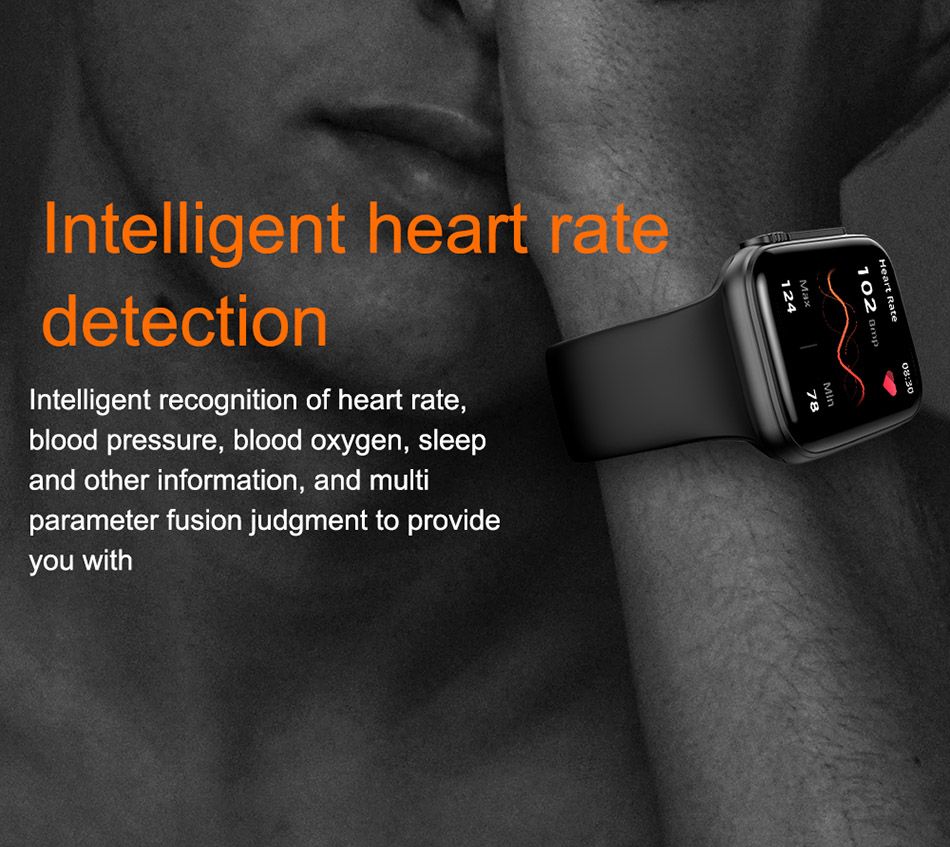 Newly upgraded heart rate sensor
A new generation of heart rate monitoring chip is used to further improve the detection performance,multiple optical paths are flexibly matched, and real-time all-weather intelligent detection.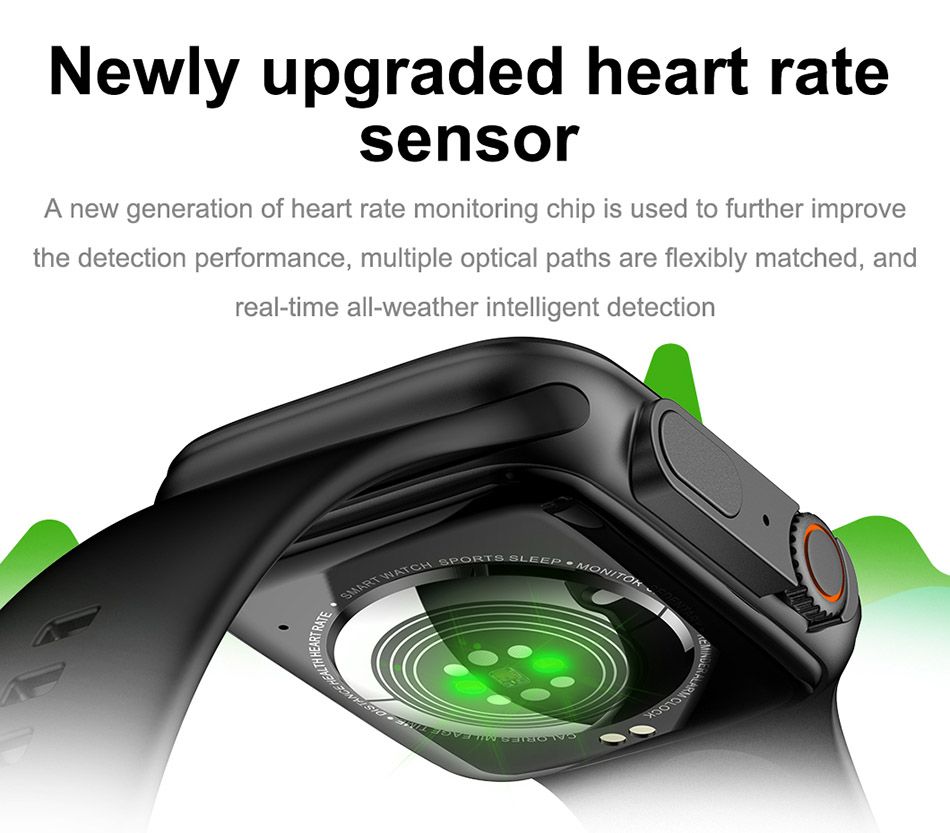 Professional biosensor chip makes blood pressure measurement more accurate,ensuring reference and accuracy.
Easily record menstrual time and physiological symptoms,and provide thoughtful suggestions.Never break your fingers anymore,more considerate than your boyfriend.
Sleep monitoring records your time of deep sleep and light sleep at night to help you improve your sleep quality and sleep well.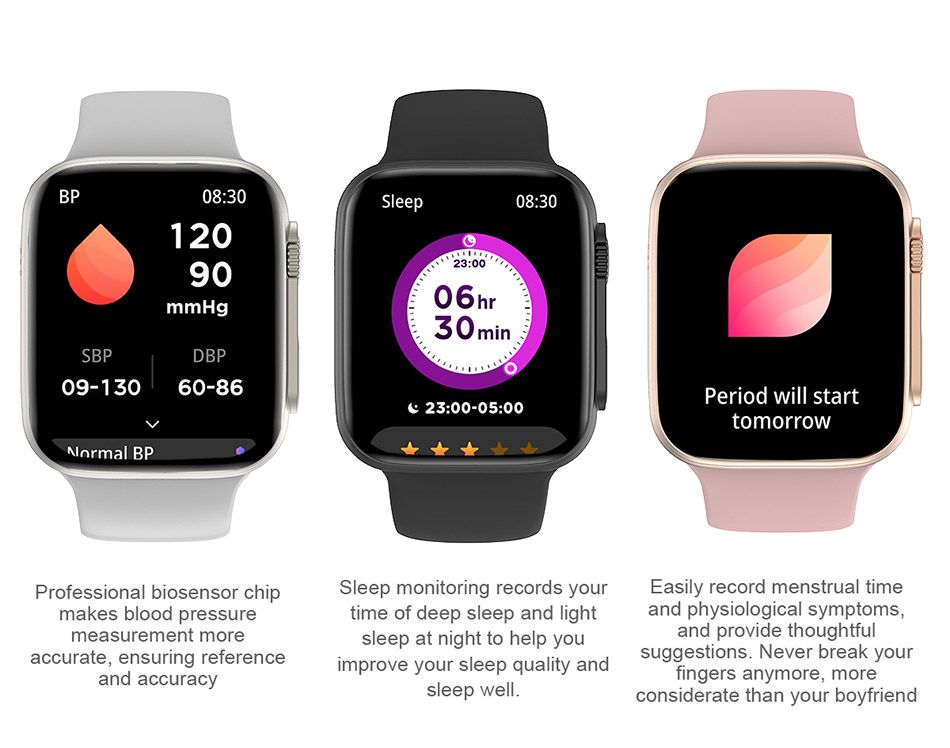 High precision blood oxygen monitoring
In high altitude areas,every meter of climb is accompanied by a risk challenge.The watch will be based on the height changes remind you to monitor blood oxygen saturation and protect your health.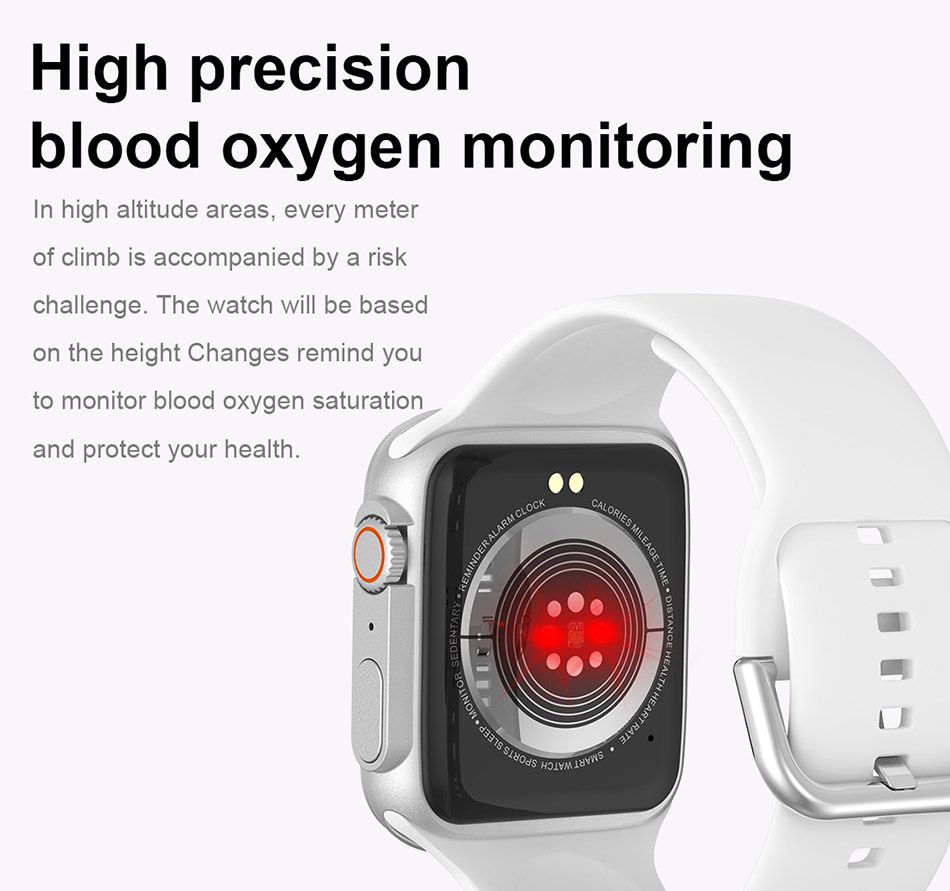 Many functions are waiting for you to explore
Weather,intelligent alarm clock,music,timer,remote control photography,small games,computers and many other functions converge,so you can experience more wonderful things.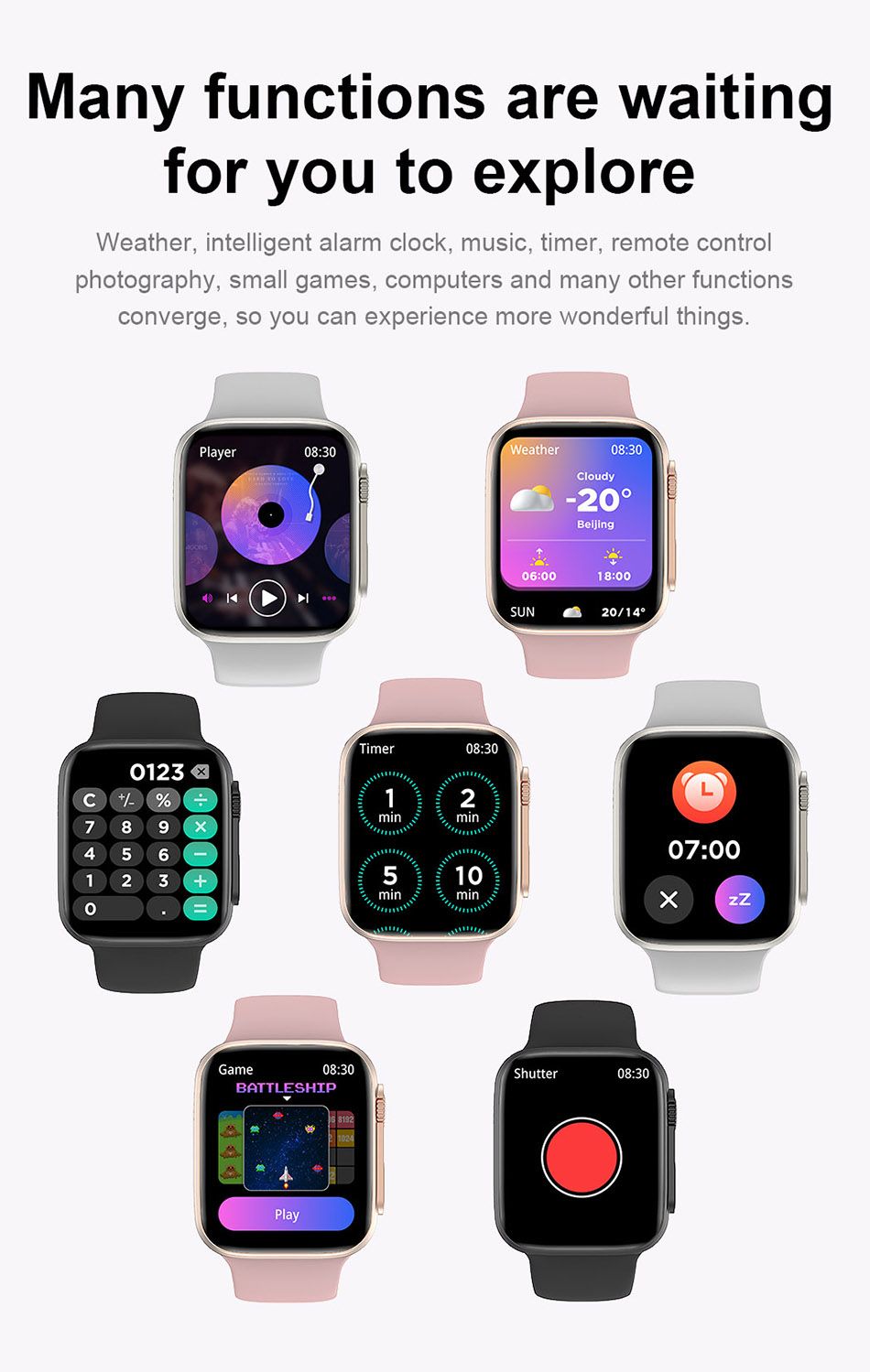 Dimensions and parameters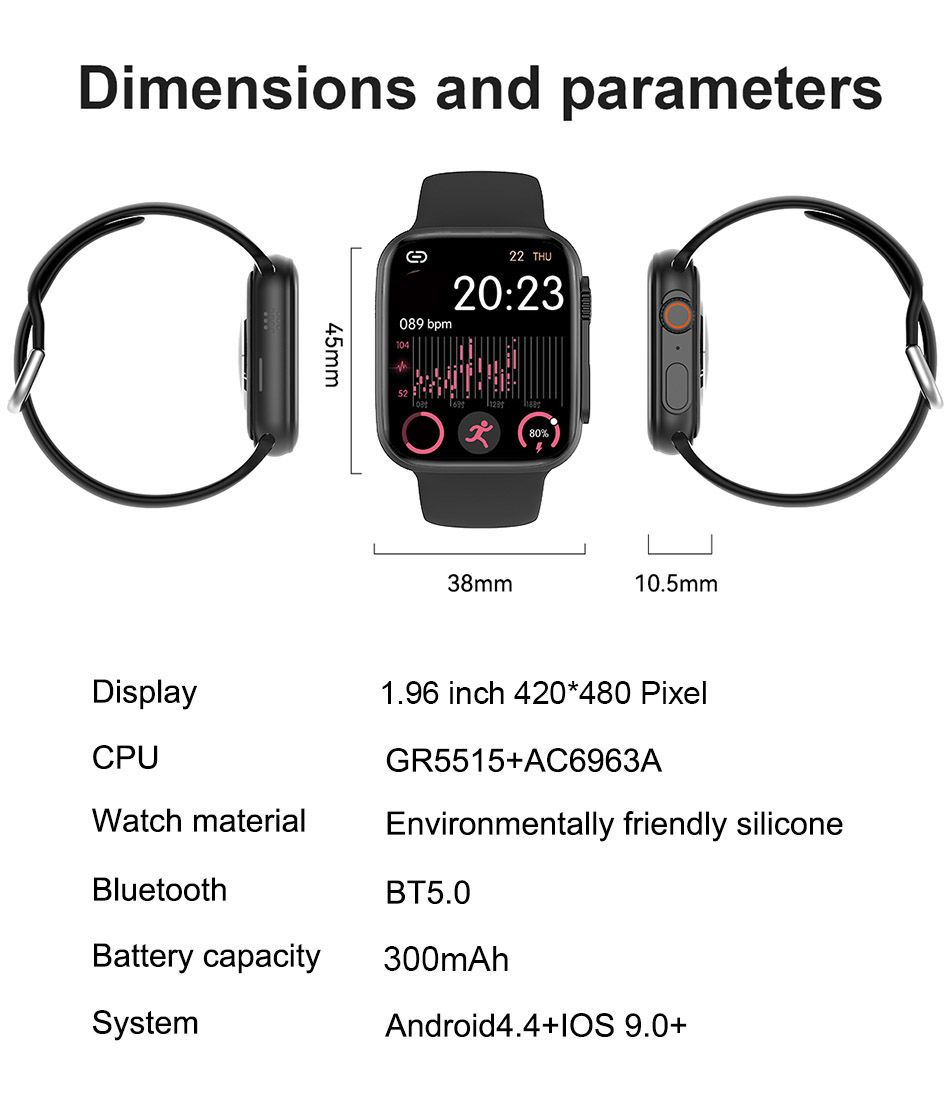 Multi color option,More beautiful with technology
Massive dial with three colors make you brand new every day.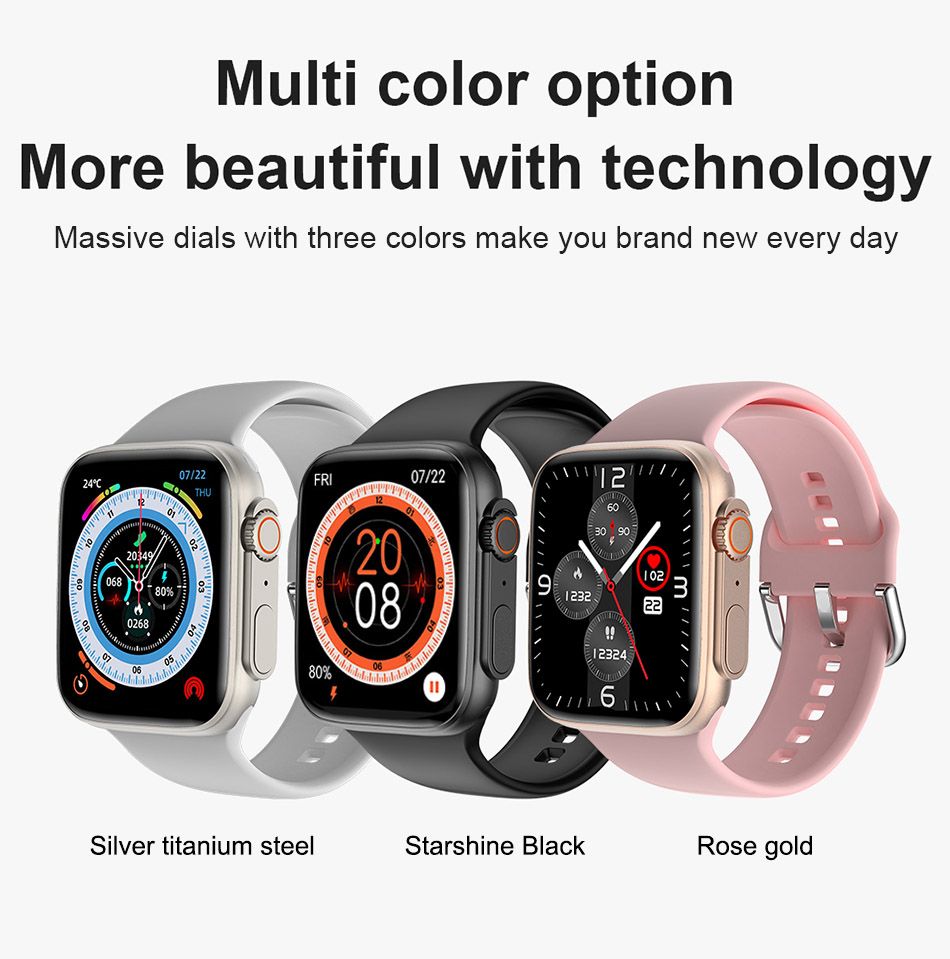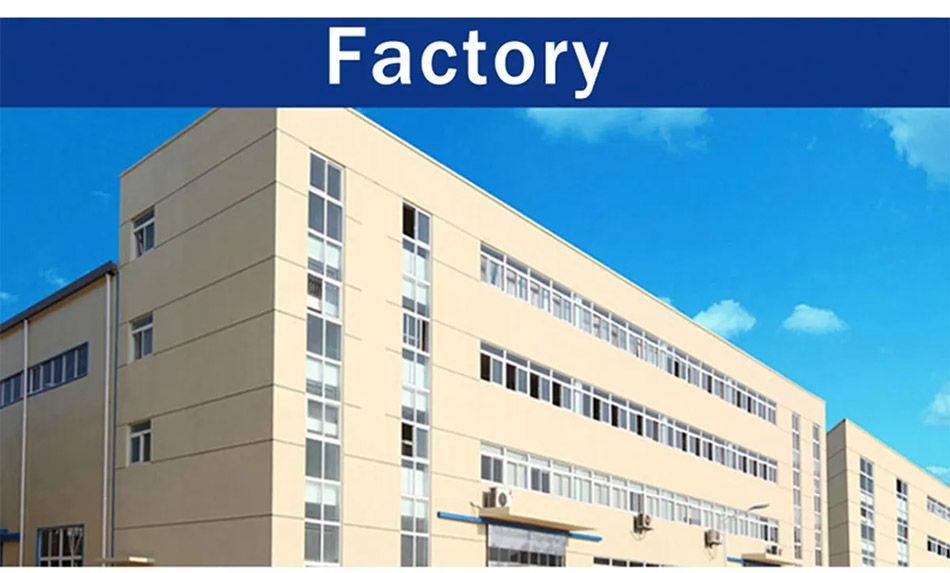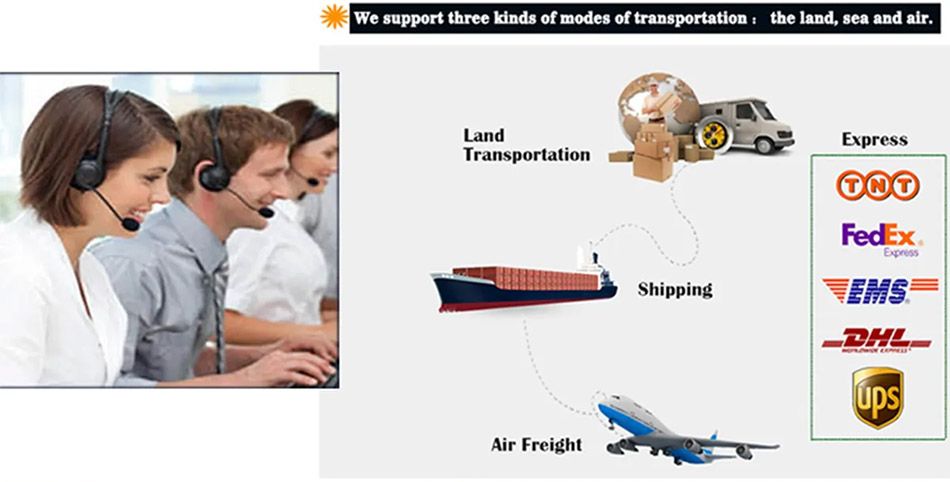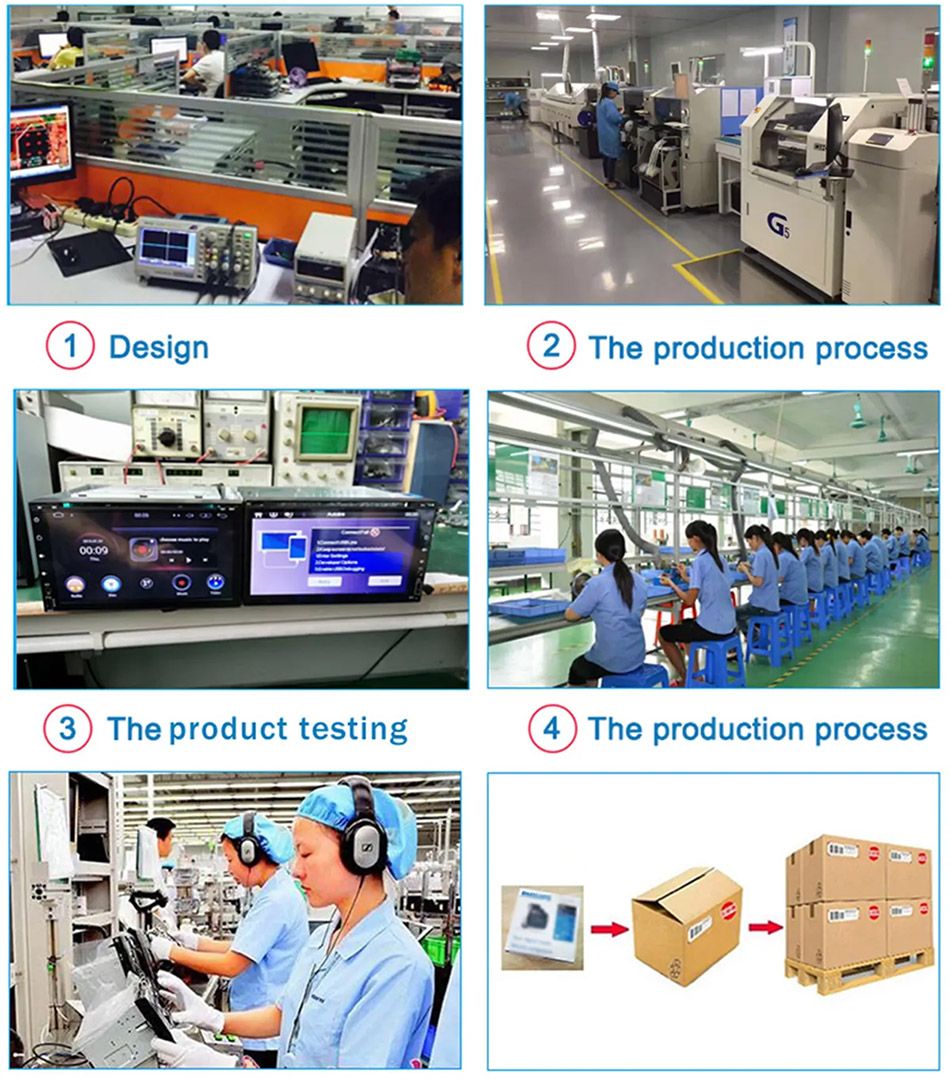 New Original 2023 IWO Smart Watch Series 8 Bluetooth Call Sports Heart Rate Blood Pressure Monitoring Fintess
Tracker Sleep Monitoring Multi-dial
For Woman Men Kid Smartwatch PK IWO Ultra 3 DT8 H11 Ultra ZD8 Ultra X8 Ultra X8 MAX Ultra D7 Pro Max S8 Y68/D20 Y78/D30 Y68/D20 Watch 7 IWO 14 Series 7 M16 Mini HW57 Pro i7 Pro Max  Smart watch IWO 14 Pro Max Series 7 Ultra Watch iwo watch ultra 3 watch 8 ultra smart watch ultra series 8